Hospital Sanitation Worker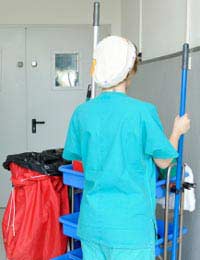 Although the job title of hospital sanitation worker certainly does not sound glamorous, it is an important part of healthcare. Without hospital sanitation workers, we would not have the safe, clean environment we rely on in hospitals. Disease and infection would be rampant and patient care would be compromised.
What Does the Role Involve?
When people talk about sanitation in a hospital, they are speaking about the procedures used to maintain a stringently clean and safe place for patients and staff. Even though many roles in other sectors require proper sanitation, it is particularly important in a hospital.
A hospital sanitation worker must ensure that cleanliness is upheld at all times and that all codes of conduct are satisfied. In a typical day, a hospital sanitation worker will be cleaning the hospital and those with more experience may even be training new workers.
You would be ensuring that all legal sanitation codes are followed and you might be conducting inspections as well. The responsibility level is high in the sense that mistakes or poor sanitation can translate to dire health consequences for patients and staff. With so many people in a hospital, disease can spread quickly if proper codes are not consistently followed.
The Right Person for the Job
Someone who would do well in this role not surprisingly will probably like to clean. While many groan at the word, for some the immediate gratification of seeing the results of cleaning and knowing they are maintaining high standards is very satisfying. An attention to detail is important to ensure cleanliness is upheld everywhere.
As you will likely be on your feet a great deal and the work is somewhat physical, you should be in fairly good health. If you are a quick-learner, this is also helpful, namely because you will have to learn many sanitation procedures. You will learn about sterilisation and how to safely dispose of various products, some of which may be harmful.
As a hospital sanitation worker, you may be trained to sterilise medical equipment and dispose of used needles and other potentially dangerous items. You may even have to meet with government inspectors if the hospital is being checked for cleanliness and proper practices.
Training as a Hospital Sanitation Worker
While salaries are typically low in this role, many roles come with full benefits and this health career is a stable one. Hospitals always need reliable, thorough sanitation workers and if you take a position at a hospital, it is likely you can continue in it as long as you wish, assuming your work remains to a high standard.
The lack of interaction with patients can make it an attractive position for someone who does not have an excellent command of English. This can be especially true if it's a 'stepping stone' they use while improving language skills or studying at university. Given that most training can be done on-the-job, it is also an attractive role for someone who does not want to take formal training at university or otherwise.
A Career in Hospital Sanitation
While a health career as a hospital sanitation worker is not for everyone, it is a stable choice for someone who wants to play a part in keeping things safe and clean for everyone. It can work as a temporary or long-term career role and give you the satisfaction in knowing you are improving hospital conditions.
You might also like...
I have completed sanitary inspector diploma from SPMC J&k but still waiting for a job as govt. Is not positive towards this work title as it is need of the hour @ SWACH BARAT Mission
Jazz
- 25-Jun-18 @ 7:37 AM
i have a good experience in sanitation because i have completed sanitary inspector diploma from all india insitute of local self government. I would like to work with hospital sanitation.
prateek
- 5-Oct-15 @ 10:00 AM
I would like to have this job.i know how to clean, i have experience.i worked more than 5 years in Israel .
Chris
- 30-Jun-15 @ 7:21 PM
would like to know more on hospital sanitation workers.health problems associated with their work and prevention of the same.
mama lisa
- 28-Jan-12 @ 3:59 PM