Hospital Food Catering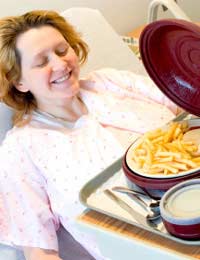 While the field of food catering is a massive one that encompasses a number of different areas, hospital food catering is a special area that requires a range of unique skills and attributes for success.
Working in Hospital Food Catering
Hospital food caterers have a challenging task compared to other food caterers in non-medical sectors. A hospital food caterer must create menus that not only satisfy the palates of patients but also cater to their individual health needs.
Challenges of Hospital Food Catering
If you consider that many patients will have poor appetites or severe nausea from medications and their illnesses, you can see how specialising in hospital food catering is a challenging task. Not only that, but you must keep abreast of the latest changes in food tastes.
In fact, research can be a key part of the role for a hospital food caterer. You will want to survey patients to find out what they think of the taste and quality of the foods you prepare. Also, you will need to monitor the trends and tastes of patients, particularly with relevance to their age.
Many people associate fish and chips with British people but actually, curry now rates higher for a food preference. These sorts of trends are important to know when creating meals. For instance, elderly patients may have more traditional tastes for sausages and potatoes while younger patients tend to be open to a wider range of foods.
Areas of Work
Hospital food caterers can still enjoy many different career roles within this specialty. While most people will begin at the lower end of the scale working in the kitchens and creating menus planned by a more senior team, there is enormous scope for gaining more responsibility and increasing your salary. At the top end are registered dietitians who review the menus and ensure that they meet the needs of patients.
You might work in supervisory roles within the kitchen or you may be responsible for food ordering and organising the kitchen. Still others will work in a finance role for hospital food catering, where they focus on the creation of meals within a specific budget.
Training for a Hospital Caterer Career
Depending on where you work – in the kitchen as a chef or in a menu planning role – your education can range from cooking school to an undergraduate degree in dietetics or even graduate education in economics or health planning. Generally, the more education you obtain, the more responsibility you can have in your career and the higher the pay for your job. At the very basis of success in this career is a love for food combined with a passion for helping people to attain health through daily eating.
You can work directly for the NHS or you might work for a private company that is contracted to provide services in a local hospital. There are many options and environments – not everyone need work directly in the kitchen.
Another area of importance is food safety and hygiene. Menu planning, budgeting and cooking the meals are only one part of this career. Also important is ensuring that the foods reach patients in a timely manner and do so safely and in good quality.
Making a Difference
The unfortunate reputation of hospitals is still often one of 'bland and boring' foods that leave patients cringing and avoiding eating. However, hospital food today has actually come a long way from these older days of institutionalised foods. Still, it has a long way to go in terms of appeasing the majority of hospital patients. Your contribution to the field as a hospital food caterer could make a major difference.
A person's diet and nutritional status are well known to play a vital role in both maintaining and improving their health. As a hospital food caterer, you will have the opportunity to help many people regain their health and restore their enjoyment in eating.
You might also like...