Work as a Natural Foods Chef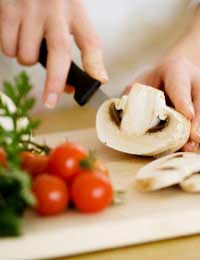 Food is life and for those who know that life is better with healthy, wholesome foods, working as a natural foods chef is a fulfilling career choice. Natural foods chefs are passionate about everything related to food – from sourcing the food to serving it to consumers. Through their cooking, they help people feel good through healthy food choices.
Becoming a Natural Foods Chef
Training in this area involves college or university level education at a general cooking school. Many now have specific modules or certification programmes for natural foods cooking. For most people, however, they will train as a chef in one or a number of cuisines. After, they may take nutrition courses or others relating to healthy eating and cooking as a supplement to their original training.
Where Can I Work?
Employment opportunities are endless in this field. Some people may work privately in homes to teach people how to cook healthy meals. Others may work to create menus for those who suffer from health conditions such as diabetes or gluten intolerance. You might even be the exclusive, personal chef for one family who wants to eat healthy on a regular basis. Another key burgeoning area in natural foods cooking is to create menus for vegetarians, particularly vegans who consume no animal products.
At the more ambitious level, some natural foods chefs are personal chefs to celebrities. Another fast-growing area is to consume natural foods for weight loss. Chefs who can provide diet-friendly menu options are becoming more in demand. As more consumers become aware of the benefits from healthy eating, the demand will likely continue to grow in this industry.
Choosing to Support the Environment
Working as a natural foods chef tends to go hand-in-hand with sustainable, positive choices that benefit the environment. Those in this industry are more likely to be people who not only care about healthy foods, but also about the ecological footprint these foods leave behind. This holistic approach to food and cooking can help to satisfy the many consumers who want to know that their restaurant food was prepared in ways that don't harm the planet or their bodies.
A natural foods chef will probably be adamant to cook with organic ingredients as well as choosing meat products that allowed animals to be raised and fed in ethical ways. This kind of natural approach is also one that can benefit how the foods are marketed to consumers.
The Right Skills to Succeed
Those who want to be a natural foods chef should be very creative individuals. Coming up with new ways to create enticing, palatable dishes is a challenge. In fact, it can be more of a challenge when you are aiming to cook healthy dishes, particularly ones that are beneficial to people who have specific health needs.
Working well in a team is important if you plan to work in the restaurant industry. You should also be able to handle a fast-paced environment as most kitchens are busy and there is pressure to efficiently prepare a meal. A competitive spirit will serve you well as the industry is a highly competitive one where media reviews can play a big part in your success. Again, creativity to bring something different to your role and market yourself will be helpful.
A passion for improving the health of those you serve is paramount to success. Keeping up-to-date on new developments in the area of nutraceuticals and foods that are beneficial to health is also important. If you want to develop top-class cooking skills while also helping people eat healthy, then think about becoming a natural foods chef.
You might also like...