A Career as a Surgical Technologist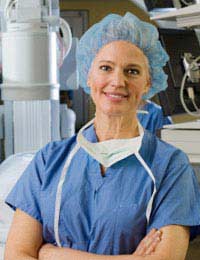 Surgical technologists are one of many rapidly growing health careers with a strong job outlook. A surgical technologist typically helps in the surgical environment by working under the supervision of a surgeon. They assist surgeons to help the operating room function more efficiently and effectively. A surgical technologist will set-up the operating room prior to a surgery and will keep it organised during surgery.
A Typical Day as a Surgical Technologist
In an average day working as a surgical technologist, you will prepare the operating room for the surgeon, nurses and other healthcare professionals involved in the surgery. You will assemble sterile equipment and ensure everything is working effectively. You may also participate in preparing the patient for surgery although this may remain under the jurisdiction of the nurse. Some surgical technologists will transfer patients to the operating room as well.
You may work alongside nurses to provide the surgical tools to the surgeon as requested during the surgery. Counting all of the tools after surgery may be something under your responsibility or the responsibility of the nurses in the operating room. Also, you may be responsible for disposal of any waste generated during the procedure. Much of the role of a surgical technologist can vary depending on the specific place of work and duties listed as part of your specific role within a hospital or private practice.
Training to Become a Surgical Technologist
Training to become a surgical technologist varies depending on your country of residence. Usually, you will need to take a university programme that leads to accreditation at the national level. Most people study for at least three years and also pass a certifying examination at the end of their studies. Practical training is also essential to ensure a person isn't simply trained on the theory of the area. You can also specialise in one of many different areas of surgical technology. Some people will specialise in neurosurgery or open-heart surgery.
Choosing a Work Environment
Surgical technologists can work in a variety of environments, with many in hospitals. You may work in a hospital operating room or a delivery room. Other surgical technologists will be employed privately or working in special ambulatory centres. Still some will choose to work in the military – either locally or overseas.
Job Outlook for a Surgical Technologist
At present, the job outlook for a surgical technologist is excellent. As many new surgical techniques are being introduced, surgical technologists are needed to support surgeons and ensure operating rooms function smoothly and efficiently. The pay is similarly stable and will grow as you become more experienced in your role. This opportunity for advancement can mean you constantly learn and apply new skills, making the role a varied and interesting one.
Skills for Success as a Surgical Technologist
Since a surgical technologist must work within a team, it is essential that they have excellent teamwork skills. They must be good communicators and able to follow orders very quickly and accurately. They must also have a good attention for detail to ensure they set-up the operating room appropriately and carefully. Sterile, strict working practices are also vital to keep patients safe and keep the operating room clean and free from bacteria and pathogens.
A warm and caring manner is similarly important to succeed as a surgical technologist. This is particularly critical where you would be working with patients. Many patients are very fearful of surgery and your empathy and support whilst you perform technical duties is necessary to help make the surgery a smooth process both for the surgical team and the individual patient.
Choosing a Career as a Surgical Technologist
With surgical technology changing so rapidly, demand for qualified and certified surgical technologists is fast growing too. For those who want a stable, lucrative health career that puts them in touch with both the surgical team and patients, choosing to work as a surgical technologist may be the ideal career choice.
You might also like...
Hi! I am training to become a surgical technologist in Indiana in the US but I am planning on moving to England next August. Is there anything that I would need to do to work in the UK? is it even possible to transfer my degree over ? Thank you
sav
- 25-Oct-23 @ 3:05 PM
Surgical Technologist Advise please Where can I study Surgical Technologist please.
Mary
- 18-Oct-23 @ 8:04 PM
Can a AST certified surgical tech from the USA with over 12 years of experience work in the UK? How can they transfer or gain UK licensure?
Andi
- 21-May-23 @ 10:20 PM
Hey everyone. So I'm a surgical tech in New York and I was wondering if I can work in the UK with this license?
Kay
- 16-Jul-22 @ 1:24 AM
I am student , lives in birmingham ,recently graduated from the high school . surgical techs is my most interesting field and I was looking for the ideal collage to do , Any sugesstionwill help me a lot .
Hawa
- 5-Mar-21 @ 5:14 PM
I'm a Certified Surgical Tech with 10 years experience and 1 as a service lead in Spine.I'm looking to work in either Sweden, Norway or Finland areas.Does anyone know what all I can do to get started. Thanks
Craig
- 30-Nov-20 @ 1:23 AM
Hi. Im surgical technologist. And i have 4 years experience. Im looking for emigrate to uk. How i can do process?
Hiba
- 21-Oct-20 @ 11:54 AM
Hi , I'm a surgical technologist and i have 3 years experience in private hospital in tunisia ???? , I want to emigrate to U.k to complete my professional life there and increase my skills and my experience
Sahar
- 2-Jun-20 @ 3:30 PM
I'm a surgical technologist in tunisia , i have 3 years experience, i worked all type of specialities, how can i emigrate to U.k to complete my professional life there?!
Sahar
- 2-Jun-20 @ 3:25 PM
I'm a certified surgical technologist from America and now I'm living in the UK. I'm legal to work but I don't know how to go about getting certified here. I think you have to be a registered nurse first. Does anyone know? It really is frustrating because that's what I trained for. Thank you!
Hhunt
- 26-Nov-19 @ 6:42 PM
I have been a certified surgical tech for over 19 years in the United States. What would the process be on how I can be a surgical tech in the U.K.?
Dan
- 19-Nov-19 @ 11:53 AM
I have graduated my nursing study in 2003 in General Medicine Nurse in Health and Pedagogical Assistance to " Sfantu Iosif " Theological Sanitary Post-Secondary School of Craiova, Romania; I have been some practicing during the schoolin theatre and dental office in Belgium. I discovered my passion for Surgery when I understood that all scary operations are made and need to be done in best interest of patient and his well being. I would like to study and specialise as a scrub tech nurse for my personal development and work in future in this kind of environment. I have got 7 years experience as adult nurse in a Care Home as aSister. What course I should take to follow my dream?
Claudia
- 16-Jan-18 @ 8:13 AM
I have completed my surgical technologist in India , I am still working in India 7 years experience, What are the requirements you need me to work with you people.?
Aldrin
- 15-Feb-17 @ 3:20 PM