Work in Respiratory Therapy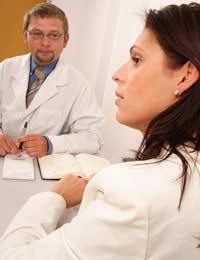 Respiratory therapists play a very important role in the health field. They provide respiratory treatments to patients who struggle with conditions that affect their breathing or anything relating to a cardiopulmonary disorder. Their role spans diagnostics right through to patient treatment and record management.
Studying to Become a Respiratory Therapist
For education, you typically need to be at a diploma or degree level. Some people begin with a nursing degree and then take graduate work in respiratory therapy. Most of the coursework is heavily science-based, with patient-focused components such as patient management, computers and diagnostic procedures.
Typical Day as a Respiratory Therapist
A typical day working as a respiratory therapist will involve treating many kinds of patients, from young to elderly. You will work with physicians and other healthcare employees as part of a team to help manage patient care. Most likely, you will also be providing specific respiratory diagnostics and therapies to patients, such as lung capacity testing and blood testing.
Skills to Succeed in Respiratory Therapy
Respiratory therapists work closely with physicians and other health professionals. This requires you to have excellent communications and people skills. Some may work in nursing facilities or even as a source of information in respiratory sales for equipment to hospitals and other facilities.
You should also have a strong attention to detail and be able to follow instructions well when given from a physician or other member of staff. Solid computer skills are necessary to ensure data is entered correctly and confidentially. For patient care, a good bedside manner is essential, particularly to support patients who are frustrated with long-term breathing conditions.
Career Progression in Respiratory Therapy
There is good scope to progress in this field as you gain more experience. You may start by working in a clinical setting but may move up to a role where you look after patients who are critically ill. Eventually, you may even be able to work in a teaching role within a hospital or university.
Salaries in Respiratory Therapy
Job prospects are currently high and this area is expected to rise significantly over the next decade, particularly with breathing problems in most areas on the rise. A typical wage varies but tends to average around £25,000 to £35,000 per year. Much will depend on the level of responsibility and your role as benchmarked within a respiratory care team.
Choosing Respiratory Therapy for a Health Career
Respiratory therapists have a huge responsibility because they play a key role in something vital to all patients – breathing. They tend to be caring people who have a good understanding of science, are organised and can work well within the team.
If you feel you have these skills and are interested to become a respiratory therapist, the first step is to speak with an academic advisor at a university. It's also a good idea to talk to someone already working as a respiratory therapist. This way, you can get a better sense of the daily challenges, helping you to decide if working as a respiratory therapist is the right health career for you.
You might also like...
My sister is a respiratory therapist with 5 years experience from India and I year from UAE. She is a graduate of respiratory care technology from India who love to work in the UK. How can she apply? Could you please help her?
Malu
- 2-Nov-23 @ 12:22 PM
Respiratory therapist
Safi
- 30-Jul-23 @ 1:20 AM
Hi. I'm from Nigeria. I graduated with a degree in human physiology. Can I know everything I'd need to work as a respiratory Physiologist in the UK??
Qee
- 13-Jul-23 @ 7:22 PM
Hi, I am a respiratory therapist specialist in Saudi arabia for 4 years and 1 and a half year in the philippines. What are the requirements to work in UK? Is my diploma and license from the saudi and philippines is valid to work in UK? Thank you!
Jan
- 10-May-23 @ 9:31 PM
I am a 6 year experienced Licensed respiratory therapist from the Philippines hoping to find a job in UK.. seeking an advice on how to become a Respiratory therapist in UK.
Isha
- 26-Nov-22 @ 3:05 PM
I am an RT in the USA and I am looking at moving to the UK and wonder what it would take for me to work there?
I'm a respiratory therapist from India. I wish to work in UK. Can I work in UK as a respiratory therapist with my bachelors degree or do I need to get trained from UK. Can you help me out with this?
Hi I am a respiratory therapist in india.what are the requirements needed to work as respiratory therapist in uk
Lucia joseph
- 8-Oct-21 @ 9:16 AM
My sister has completed a B. Sc respiratory care technology course from India. Now she has completed 6 monthsclinical training in India itself. She likes to work in UK. So what we need to do? Couldyou please help me
Gree
- 13-Sep-21 @ 12:24 PM
To work as a Respiratory Physiologist in the uk, you would need a degree in clinical physiology with ARTP I&II certification. It's possible to have another degree such as respiratory therapy but the accreditation is highly desirable. Mind you if you have experience, apply for the certification and sit the exams-u should be in with a good chance in terms of applications????
Shuggy
- 4-Jul-21 @ 12:14 AM
applying for respiratory therapist i have 6 yrs of experience in ksa saudi arabia
venz
- 16-May-21 @ 8:47 AM
Hi to work in the field of respiratory therapy you have to have a physiotherapy degree or be able to convert to a physiotherapy degree. The UK doesn't have respiratory therapists, we have respiratory physiologists and respiratory physiotherapists. I can understand the frustration as I would like to convert to a respiratory therapist role in the USA, however by the looks of it I have to do a 2 year course to cover what I've already covered.
Jacob
- 8-Jan-21 @ 7:58 AM
I am a Respiratory Therapist in Philippines. How would I be able to apply for a job here in UK? People do not seems know and recognised our degree here in UK. As if it Don not exists at all. Can you help please?
Mary
- 12-Dec-20 @ 6:33 PM
Good afternoon,Iam a current Registered Respiratory Therapist in the United States of America and am looking into prospective employment in the United Kingdom and was wondering what I would need to obtain to be employable. Thank you for any information you can provide. Nydia
nyd
- 16-Sep-20 @ 8:35 PM
Iam a respiratory therapist from India. I wish to work in NHS in UK.Can I work in UK as a respiratory therapist with my bachelors degree attained from India or do I need to get trained from UK. Can you help me out with this?
Christy
- 24-Aug-20 @ 6:10 AM
Iam a respiratory therapist from India. I wish to work in UK. Can I work in UK as a respiratory therapist with my bachelors degree or do I need to get trained from UK. Can you help me out with this?
Jas
- 11-Aug-20 @ 6:14 PM
Hi there, I have just moved from the USA to the UK recently due to my husband position. I have an Associate Degree in Respiratory Care Practitioner and I have 5 years experience in one of big hospitals. After I have moved in here I get confused how to fit in UK healthcare system. I need your kind advise if you have similar experience. Thank you
abi
- 15-Jul-20 @ 2:06 PM
hi, i'm in my final year studying respiratory therapyat the University of Ghana, Accra-Ghana. i want to work in the UK come september as a respiratory therapist although an EU citizen. Can you please give me guidelines to achieve this dream. what courses should i take in the Uk and in which institutions. kindly treat as urgent
Vera Antwi
- 27-Feb-20 @ 2:34 PM
I have an associate degree in respiratory therapy from the US, with 28 years of experience. Can I do anything to qualify for work in the medical field in the UK? Thank you.
Bely
- 4-Jan-20 @ 7:28 PM
Hi, I'm a qualified respirstory therapist in the Philippines and now lives in the UK. I wish to ask how I can get qualified to practise my profession in the UK? Do I need to undergo another training or just take up an enhancement program? Please advise. Thank you!
Thomas
- 20-Jun-19 @ 4:11 AM
Greg Mirt - Your Question:
Normal respiration is the key elemnt of good breathing dynamic.
---
Our Response:
Many thanks for your comments.
AHealthCareer
- 25-May-16 @ 2:04 PM
Normal respiration is the key elemnt of good breathing dynamic.
Greg Mirt
- 25-May-16 @ 12:40 AM