Become a Critical Care Transport Nurse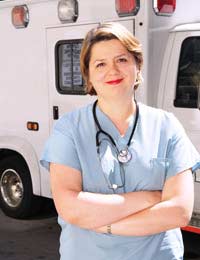 If a medical emergency occurs, those who work in critical care transport are faced with the challenging but rewarding task of safely transporting injured patients. These patients need to be taken to the closest hospital or medical centre, whether this is through air transport or by road.
What Happens in Critical Care Transport?
Critical care transport is something provided by medical centres and hospitals to ensure that patients who are injured or critically ill are taken to the facility that can best meet their needs. Usually done in an ambulance, critical care transport relies on a number of health professionals to meet the needs of patients.
Patients may be elderly or they may have suffered from some kind of trauma. Virtually any patient who needs immediate attention comes under the jurisdiction of the critical care transport team. Nurses play one of the most important parts in critical care transport. A critical care transport nurse is still a registered nurse like any other nurse.
He or she will provide important nursing care to the patients during the process of transport from one facility to another. During the transportation process, the nurse will assess the patient's condition while also keeping tabs on the patient's vital signs.
If intravenous fluids are needed, the nurse will administer fluids to the patient. Any medicines that are required will similarly be administered to the patient. Record keeping will be important to note any changes to the patient's condition or any adverse reactions to the care that is provided during transport.
Nurses who work in critical care transport will be trained to deal with bleeding and other conditions that require emergency attention and care. Working well in a team is important as communication with other facilities and staff in the ambulance will ensure safe transport for the patient. Salaries for this role are generally in line with NHS standards for nurses.
Skills for Success
An empathic, warm personality is important in this role. Patients may be distressed, in shock or in severe pain. A critical care transport nurse doesn't just attend to the patient's physical needs but should also have a soothing, supportive and kind manner.
Efficiency and accuracy are paramount to working well in this role, as you will need to ensure that a patient receives the right medications and care. A critical care transport nurse should also be highly resilient and able to work well under stressful, difficult conditions.
Training for a Career in Critical Care Transport
Critical care transport nurses are registered nurses, typically with a bachelor's degree in the field, depending on the country where they are working. Continuing education is important for all nurses, including those who work in critical care transport. A nurse should regularly be in attendance at educational seminars along with keeping up-to-date on the newest developments in critical care.
Choosing a Career in Critical Care Transport
It is likely that you will already be working as a nurse when you choose a career in critical care transport. It is usually a good idea to have some nursing experience already, which will have exposed you to a variety of different specialist roles in nursing. This way, you can be confident that critical care transport is right for you.
There are targeted educational modules that are taught to registered nurses who want to work in this area. Many are even funded by hospitals and clinics. If the intense pace of this role is something that appeals to you and your goal is to offer support to critically ill patients, then consider working in this rewarding area of nursing.
You might also like...