What is a Phlebotomist?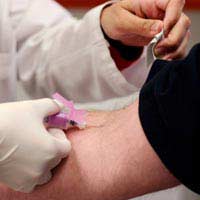 Phlebotomists play one of the key roles in healthcare. Yet, many people still don't realise that the person who draws their blood for laboratory tests and procedures is called a phlebotomist. Some nurses will also work in this role but it remains a health career that requires specialised training.
Why Become a Phlebotomist?
Phlebotomists are one of the most important support roles in the medical field. By collecting blood from patients, they are helping to give vital information in the quest to diagnose disease and provide treatment.
But while drawing blood may seem like a simple process, a phlebotomist has the task of doing so with care and without harming the patient. If the blood is not taken properly or if a specimen is contaminated or altered during the process, the results of the test will essentially be useless.
A Typical Day as a Phlebotomist
Although the primary role of a phlebotomist is to draw blood and other samples, they also have to be proficient in office work as well. Patient paperwork and accuracy are vital. A phlebotomist also must ensure that standards of hygiene and cleanliness are upheld and that patient care is never compromised.
Some phlebotomists may have to oversee transport of patient samples. A caring manner will be important as some patients have an intense fear of having their blood removed. Even working with children will mean that you need to be able to soothe patients and minimise discomfort during the procedure.
Some phlebotomists will work on a part-time basis while others can choose to work full-time. Others may venture into related careers part-time while working part-time hours as a phlebotomist in a laboratory. This career lends itself well to those who are studying to become nurses and can be a good supplement to income at this time while also providing valuable experience in medicine.
Getting Started in Phlebotomy
Training as a phlebotomist usually doesn't require specific subjects but it helps if you have an interest in health and have taken science courses prior to starting your training. Much of the training can occur on the job as you learn how to take blood from many different patients, whether those are children or the elderly.
Short certificate courses are available, which serve to give you a good working knowledge of phlebotomy. You will learn how phlebotomy connects with different therapeutic areas in healthcare such as pathology. You will also be taught how to adhere to the important professional codes of conduct.
Other training modules and experience will include how to properly take blood and how to deal with challenges that may arise in the process. Health and safety concerns will be discussed as will record-keeping, confidentiality and accuracy.
A number of people will start out in phlebotomy prior to working in a health career role that is even more specialised. For instance, some nurses or doctors began by training in phlebotomy and they may have worked in a medical office or hospital prior to embarking on their nursing or medical career.
Working as a Phlebotomist
Working as a phlebotomist is an excellent way to immerse yourself in the medical culture and see how you enjoy a health career. Given that you will work with a wide variety of people – from physicians to nurses and patients – you can be exposed to many different health roles. Others might find that they enjoy the role so much that they can't imagine working in any role other than phlebotomy.
You might also like...
I am looking to work to hear from you.
Natasha
- 30-Nov-23 @ 5:07 PM