Work-from-home Health Jobs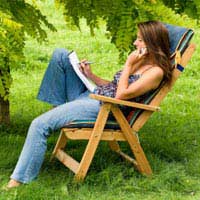 With the healthcare field continuing to expand, there are more options than ever that include flexible forms of working. One such potentially convenient choice is to work from home. While some health jobs are exclusive work-from-home ones, others may be a combination of home-based work coupled with office work.
Options to Work from Home
Many jobs in health have the option to work from home. The option may be one that you can ultimately decide whether to take advantage of or avoid. It may actually come as part of the health job. Many office jobs in healthcare offer flexible arrangements although there may be a minimum duration of employment before you can take this option.
Other healthcare jobs such as medical transcription may be feasible to do from home. With technology what it is today, virtually any role with a strong focus on data management has the potential to be a work-from-home job.
In particular, those positions in medical writing and copywriting can be done from home. Proposal work in healthcare is another work-from-home job because much of the work involves crafting large proposals on the computer.
Balancing Work and Personal Life
Working from home is often a wonderful option for those who have children, especially young ones that require care. Rather than hiring a babysitter, a parent might be able to multi-task and work while still keeping an eye on the little ones.
Other parents will still want a nanny but will enjoy just being home and around their kids while they work. Depending on your situation, working from home can help you balance work with your personal and family life.
Challenges in Working from Home
One of the biggest challenges when you work from home can be motivation. For some people, getting dressed and going into the office is motivation to work and meet deadlines. At home, it can be harder for some people to get going and they could be more likely to procrastinate and struggle with deadlines.
Others find that there are just too many distractions – not just their children. Telephone calls that aren't work related and even just mindless nibbling in the kitchen can make it harder to work from home.
A problem that some people discover is that their friends and family don't respect a work-from-home job in the same way as an office-based role. This can mean that you are bombarded with calls and visits from friends who do not take your work seriously.
Or, it may mean that your partner regularly interrupts you to chat or ask questions. Those who work from home usually need to put down firm rules with friends and family regarding their availability.
Financial Benefits to Working from Home
While it can seem expensive to work from home in the sense that you have operating costs such as heating in the winter, these can still translate to benefits. You can write off these costs when you do your taxes.
Telephone and utility bills along with office costs such as your home computer and fax machine are all tax deductible. If you have a dual role where you are not independently contracting but are on staff and a yearly salary, your employer may even provide you with office equipment. Any other costs such as paper and travel can similarly be claimed against your income each year.
Finding the Right Fit
As with any job, finding the right fit with a health career may take some searching on your part. Talk to people who work from home and think about which challenges you might face. If you are already in a health career you enjoy, think about how to approach your employer with a request for flexible working arrangements. Working from home can be very successful if it supports your health career and you can manage the workload while solving any issues.
You might also like...