Working on a Scientific Advisory Board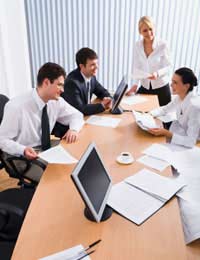 One of the most appealing parts of working on a scientific advisory board is that virtually anyone with some form of expertise and interest in any of the sciences can have a career in this area.
Scientific advisory boards exist to provide a backbone to a corporation that has a mandate in a scientific area. These boards usually consist of a number of people who have strategic knowledge in the sciences, helping the corporation reach and maintain its goals.
Training and Experience
Training and experience vary hugely from one role to another. For instance, if the corporation relates to finding treatments for cancer, then it might seek advisory board members who are oncologists. Or, it might want marketing professionals who led a cancer research agency.
Whatever area your healthcare expertise, it is likely that there is a corporation where you could potentially be of aid. For these kinds of roles, critical thought and the ability to analyse a problem and find a solution are vital. Evidence of these abilities along with an education in the area will put your name to the top for candidates in the role.
Many scientific advisory boards will prefer those who have a doctorate in the sciences or business. They want to know that you can research an issue and find or create a successful, innovative solution to the problem.
Payment for Members on a Scientific Advisory Board
Payment, like experience and training, varies tremendously from one corporation to another. Some may only pay in benefits while others pay in cash. Most, however, will be a combination of benefits and cash. You may be paid per meeting or you will be paid a yearly sum for an approximate number of meetings each year.
Expenses are almost always covered and benefits can include networking and improved reputation and prestige, particularly in higher profile positions that have strong media contacts. If you are considering work on a scientific advisory board, make sure you factor in any time spent reading or analysing the problem outside of the meeting itself.
Most of the time, the meetings are only one part. You may be sent materials to read and critique prior to the meeting and you may then have follow-up work after the meeting. All of these factors need to be balanced against the benefits and pay that are offered for the role.
What is the Role Like?
Most people who work on these boards do so on a limited, part-time basis. This kind of position tends to be appealing to those who have spent a lifetime working in the sciences. Such people may have retired but still want to participate in their area of interest while continuing to enjoy an income.
Others will function full-time in other high-level roles while attending meetings and providing strategic advice on a regular but infrequent basis to the corporation. Still others may serve on a number of scientific advisory boards. This, however, can be a bit more challenging as there may be a conflict of interest in serving for two or more competitors.
Most scientific advisory boards require strict and full disclosures of information during their application process. This helps to ensure that a member has a solid reputation and can maintain confidentiality in the role.
Passion for Science
Scientific advisory board members all share a passion for a specific area of science and a commitment to help the corporation reach its potential. If you have an inquisitive, analytical mind and a special interest, experience and expertise in one of the sciences, then consider working on a scientific advisory board.
You might also like...
What you don't really emphasise here is that all the participants will generally be highly qualified in their fields. That means they'll have established careers over a couple of decades, publishing papers and being recognised by their peers. It's not a role a recent graduate is generally likely to walk into but one they'll have to earn over time.
grumpy
- 3-Oct-12 @ 11:55 AM