Train in Health Product Development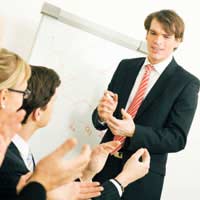 Training in health product development is more than just a single career. Instead, it spans a broad range of jobs that all have the final goal of creating a successful new product for the health market.
Product Development Manager
In most instances, the product development manager plays the pivotal role in bringing a new health product to market. In this career, you would be a specialist in developing the new health product and planning how to market it to consumers or perhaps physicians and hospitals.
You need a quick mind and investigative approach to your job, namely as you will need to identify opportunities in the market. Your market could be one that covers anything from new machines for cancer diagnosis to a new drug or functional food product on supermarket shelves.
To succeed in the field, you need an intensely probing mind that can seek out a golden opportunity for a successful new product that satisfies a need. You also should have excellent business skills as you must undertake market research while also effectively forecasting sales. If the product is eventually developed and brought to market, you will need to know how to promote it and extend its lifecycle.
Educational requirements are typically a minimum of a bachelor's degree, with a Master's degree in Business Administration (MBA) being the classic standard here. Although business isn't necessarily seen as a creative field, you should be highly creative in your ability to come up with new ideas for products.
Laboratory Development
Those who have a passion for science may similarly love working in product development. Depending on the company where the product is being developed, you might have a role in the concept stage of the product. Others may be briefed on the product requirements, while then using their scientific knowledge to develop a product in the laboratory.
You will need at least a bachelor's degree in a related field to the product development. This will likely be biomedical science, nutrition or any of the life sciences. While further education can help, experience is the key to a higher salary and a job with greater responsibility.
If animal testing proves successful, the product may then go on to clinical trials if it is a pharmaceutical or nutraceutical one. It may at any point go back to laboratory testing if the product requires modifications and testing hasn't proved as successful as expected by that time.
Choosing the Right Subfield
Careers in product development can work well for those who love laboratory work. Alternately, they can be a dream job for creative people who still have solid business sense and want to be involved in the conceptual stage right through to product marketing. Salaries range tremendously, depending on the role and responsibility. At the low end, scientists could be making approximately £25,000 a year up to more than double the amount in some research laboratories. Those on the marketing side have greater earning potential and can reach six figures.
Try speaking with people in the field or see an academic advisor at a university. You can find out where you could be involved in product development, giving you an important role in bringing health products to consumers, physicians and hospitals.
You might also like...