A Career as a Pharmacist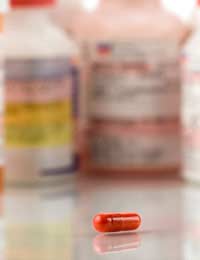 If the world of pharmaceuticals is a fascinating one for you, particularly understanding the nature of medicines, metabolism and drug interactions, then a career in pharmacy may be a solid match for you. Pharmacists are dispensers of prescription medications to patients. They offer education on the medications and they support patients by helping them to learn about the directions for taking the drugs as well as clarifying information from the patient's primary physicians. Pharmacists also monitor for drug reactions and keep up-to-date on the progress and health of patients. In this way, a pharmacist works to help ensure that the medications dispensed to patients are working properly and in a safe manner. As a pharmacist, you can also work in a hospital pharmacy or an independently owned one. In addition, the field of pharmacy shares ties to many other jobs such as a chemist.
Training to be a Pharmacist
Pharmacy programs vary around the world but in Britain, education consists of undergraduate work in the pharmaceutical sciences, complete with practical internship training and qualifying exams. The profession of pharmacy is highly regulated and pharmacists must be thoroughly assessed to be qualified to pursue their career. There are also graduate programs in pharmacy, some of which may be acceptable in conjunction with undergraduate programs – such as chemist training – in other scientific areas. The coursework includes pharmacology, biochemistry, toxicology and various other science and communications areas. Pharmacy training is similar in length to chemist training; it is actually one of the shorter programs relative to physicians or specialists, for example. In addition, the pay scale is excellent and the field is experiencing rapid growth right now, which means pharmacists virtually everywhere are in high demand. The working conditions tend to be quite reasonable as well, featuring primarily daytime hours and little overtime.
Pharmacy is also an area that provides numerous opportunities for growth and continued education and training in hospitals or privately owned pharmacies. As chemists and other professionals work in research to introduce new drugs, others may be removed or become obsolete; a pharmacist must keep on top of the latest developments in the realm of pharmaceutical drugs and patient health. Some pharmacists will work in private pharmacies while others may be hired by research companies to provide monitoring and advice for clinical research trials. Still others will even go on to own and operate their own pharmacies. Pharmacists can also be promoted to operations managers, where they will hold greater responsibility for drug purchasing and management in the pharmacy. On top of that, there are many opportunities for pharmacists in sales and quality control, which means you can combine your other skills or even business education to excel in a career in pharmacy.
Daily Tasks of a Pharmacist
The daily tasks for a pharmacist will vary depending on the role – drugstore pharmacy, sales, research and more. Typically, most pharmacists will work in traditional roles within the pharmacy where they are responsible for dispensing drugs to patients. They will also provide advice and guidance to physicians and other health professionals regarding the side effects, dosing and interactions of drugs. Another important aspect of a pharmacist's job is to keep track of a patient's response to a drug and to monitor their progress. Pharmacists will also provide practical information and advice to patients who have queries or concerns regarding drug therapy. Not only that, but if you thought a pharmacist's job only involved prescription medications, think again! A pharmacist will provide information and recommendations on over-the-counter drugs and a variety of health aids and even supplements. Some pharmacists will obtain an extra qualification in compounding pharmacy, which means they can actually formulate drug preparations in the pharmacy itself rather than buying them all ready and prepared for dispensing.
Still, the pharmacist's job does not end there. Pharmacists will offer lifestyle management tips and information, such as support for quitting smoking, exercise, diet and managing stressful lives. They provide important information on home medical equipment such as glucose monitoring for diabetics. They also deal with computer systems and paperwork for insurance. A pharmacist's career shares ties with that of a chemist, where collectively, both careers allow for the development and dispensing of drugs.
Skills you Need for Success in Pharmacy
There are some skills that are absolutely integral to a successful career as a pharmacist. Given the enormous responsibility of your role in providing medications to patients, you must have a strong attention to detail and a large respect for accuracy and care in your work. A mistake such as providing an incorrect dosage, quantity of drugs or poorly described medication directions can harm a patient or in more extreme cases, result in an overdose or death. If you enjoy working with people and providing information and education, then you've got a great head start already to becoming a pharmacist. You will be dealing with people of all ages and from diverse backgrounds, sometimes with language barriers. It's vital that you can effectively communicate the instructions for using the pharmaceuticals and you need to also have compassion and a friendly manner to properly reflect patient concerns about medications.
As a pharmacist, you would serve as in important point of contact for general information about the patient's condition. While the onus is on a physician to provide detailed information to the patient about their care and the treatment approach, a pharmacist still follows-up by providing additional, practical information about treatment. A clear voice, non-intimidating demeanour and a willingness to listen to patient concerns are all qualities that can make you an excellent pharmacist. Being able to read and interpret the notoriously messy handwriting from physicians when they write prescriptions is also a bonus skill!
If you enjoy learning about pharmaceuticals and like the idea of working in a role where you provide treatments to help patients, then working as a pharmacist is a career you should seriously consider. You will have major responsibilities but will feel the benefits and rewards that come with providing life-saving treatments directly to patients.
You might also like...