Paediatrician and Paediatric Careers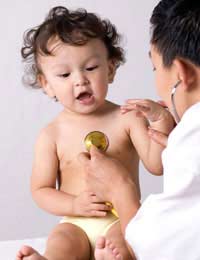 As with any medical specialty, paediatricians are registered medical doctors who have taken extended training to work within a particular area. In the case of paediatricians, their work is with children and babies.
Children and babies are a unique group with an enormous range of characteristics and challenges that require specialised training. Their metabolisms, brain development and a plethora of other physical differences from adults mean that their special medical care needs must be satisfied by a professional doctor who is well-trained and experienced in caring for sick children. As such, paediatric care has become a very important medical specialty.
Facts About Paediatric Careers
Paediatricians are focused on the health care of children from birth right through to the adolescent years. Not only that, but paediatric care doesn't merely support the physical health of children, but also cares for a child's emotional and social health. Sometimes, a paediatrician will have to use an integrative paediatric care approach whereby a child's support services are coordinated.
If a child has cancer, there is not only the physical cancer treatment but there might be long-term disability aspects related to treatment – for example an amputation due to bone cancer. In this sense, a paediatrician's approach is a whole-body one, which serves to ensure that a child is cared for in all ways. Paediatricians may also play a role in providing counselling to families of children who suffer from chronic illness. Also important is the paediatrician's approach to child health through preventative medicine.
Specialist Paediatricians
A paediatrician's career can be a general paediatrician or a specialist one. Usually, general paediatricians will treat children who are in the hospital with acute sicknesses. General paediatricians might also look after children with unique needs. One example would be learning difficulties, which means a paediatrician might even work in a school. Specialist paediatricians can be involved in the exact same clinical areas that you would observe for adults, such as urology. These kinds of specialist paediatricians are more likely to be involved in research and policy making.
A Day in the Life of a Paediatrician
You might be wondering what a typical day is like for a paediatrician. Generally, a paediatrician will meet with patients – in this case children – and parents to obtain the necessary physical information and history while also performing an examination to isolate the health issue. As with any doctor, a paediatrician will send the patient off for laboratory tests before the paediatrician analyses the results and forms a diagnosis – perhaps with the aid of other physicians or relevant specialists.
After the paediatrician makes a diagnosis, treatment options are covered upon speaking with the child and his or her family. Then, specific recommendations are made and any specialist input is obtained where necessary. The child may receive a surgical procedure, drug-therapy or any number of other medical procedures. Paediatricians will continue to observe the patient's progress after treatment to promote health and prevent any relapses. At this time, a discussion of nutritional or lifestyle changes may also occur to facilitate the patient's healing and help prevent recurrence of the illness.
Paediatricians will also keep records of paediatric care – similar to any physician or specialist. They may delegate jobs to other health professionals such as nurses, particularly for completing paperwork. Paediatricians may also be involved in conducting research, designing health promotion programs for children or taking part in continuing education courses to keep their skills up-to-date.
Other Options: Paediatric Nurse Career
If the education and time commitment of becoming a paediatrician is too daunting and lengthy for you, then you might want to consider a career as a paediatric nurse. Paediatric nurses are trained in the same general medical areas as other nurses but they also receive training specific to a child's special needs. They often work in hospital wards or in surgery to provide support to paediatricians.
Is a Paediatric Career the Right Choice for me?
If you enjoy working with children and families, then you should consider a career in paediatrics. Not only that, but you should be comfortable communicating with children and many other health professionals. Also important is your ability to listen carefully to patients, many of whom may struggle to explain their symptoms. Other helpful traits are your naturally good sense of humour and a compassionate and warm personality. In this way, you can put children and families at ease during what can be a very difficult and frightening time for them all.
As with any physician career, training is extremely intensive and will involve working at least forty hours a week, plus on-call and overtime. The financial rewards, however, are high and paediatricians enjoy one of the highest salaries in health care. The career is also one that is in-demand, which means that prospects for hiring and progression are high. Once you are a specialist consultant, you will have much less onerous hours and your salary will continue to increase.
If you feel you have what it takes to become a paediatrician and you are committed to pursuing a career in this area, then speak to an academic advisor and start researching universities to pursue a medical degree. Eventually, you will be able to receive the specialist training that will allow you to put your love of children and passion for health to the best use possible.
You might also like...
Am a midwifery student and want to be a specialist pediatrician.....do I have to start after completing my diploma?
Berry
- 4-Jan-18 @ 1:19 AM
amy - Your Question:
Hi! I'm currently in year 9 (UK) and I want to be a paediatrician doctor, not a nurse. What GCSE would I need to be one?
---
Our Response:
Please see National Careers link
here
for more information. I hope this helps.
AHealthCareer
- 7-Mar-16 @ 11:06 AM
hi! I'm currently in year 9 (UK) and I want to be a paediatrician doctor, not a nurse. What GCSE would I need to be one?
amy
- 4-Mar-16 @ 12:59 PM
@Maryanne - in a word, yes. I have included a link to NHS Medical Careers
here
which should help you further.
AHealthCareer
- 19-Jun-15 @ 1:59 PM
Hi!Currently am in my training as a nurse but I want to become a paediatric consultant in future,not a paediatric nurse ...does it mean I will have to start medicine course again and then specialize as a paediatric doctor?
Maryanne
- 17-Jun-15 @ 2:55 PM