A Job as a General Practitioner (GP)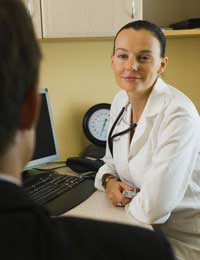 If you have ever been to your family doctor and wondered how it is that a person can know so many different things, you are probably like many people who are somewhat awed by the scope of their physician's knowledge. It can seem incredible that a person can be able to recognise such an enormous number of health disorders – from allergies and muscle pain to cancer and bacterial infections. But actually, there is a reason that a General Practitioner (GP) is capable of identifying such a wide range of illnesses.
A GP receives training that allows him or her to see the scope of a patient's symptoms and then work to pinpoint a cause. If a GP can't treat the problem, they will then refer the patient to a specialist who has more intensive training in that area. GPs are also known as family doctors, usually because they are the starting point for medical intervention when a person begins to notice symptoms of something wrong. A GP performs yearly physical exams and diagnostic tests while also writing prescriptions and treating many different health conditions. A GP may work in public health or private health care but their job roles are generally the same no matter what the sector.
Think About the Commitment
Before embarking on a career as a general practitioner, you should consider that it takes many years of studying and training plus continuing education for the lifetime of being a doctor. Medicine and drug therapy are constantly evolving. As new drugs hit the market, others are sometimes removed due to worrisome effects. A GP must stay up-to-date with all of these changes, which serves to ensure that patients receive the most advanced medical care possible. A GP also works with patients in a preventative fashion, where nutritional and lifestyle information is provided to help prevent disease, particularly when a genetic susceptibility has been identified.
The Right Amount of Compassion
While it may seem odd to think that having compassion requires a fine balance, this is exactly how one should approach the health care career of a GP. Compassion for patients means that a GP cares about the patient's well-being such that the best medical care is provided within the GP's breadth of knowledge. Compassion also allows the GP to stay motivated to help patients and at the same time, it provides the rewards of making a positive difference in a patient's life.
On the other hand, too much compassion can mean that a GP becomes emotional and struggles to provide bad health news to a patient. One of the challenges of being a doctor is that some patients will inevitably remain ill and suffer while other patients will die, despite the best efforts of the GP and other qualified professionals. A GP needs to be capable of sharing honest, bad news and must also be able to feel emotionally stable enough to let go of work and return home. The demands of a GP's career can mean that some juggling of intense workloads with family and personal life must be done.
Strong Qualities for Success as a GP
If you are a highly motivated person who can make decisions when needed and you enjoy investigating and learning about disease and health, then a career as a GP might be a good match. A GP is constantly learning new things about the field of medicine. A person who is curious and interested in the medical arena will probably be a good fit for this kind of a health care job.
Getting Prepared for a GP Career
If you are still in school, you can help to prepare for a GP career by taking appropriate classes. Take mathematics and science classes, particularly ones in biology, chemistry and physics. You can also improve your communication skills by taking English classes. If your school offers psychology classes, then consider these because you can learn about human biology and the links between body and mind.
Give some thought to the working environment, education, training, job challenges and requirements of a GP. You might find that your personality and interest in being at the forefront of medical care are a perfect complement to working as a GP. Eventually, your contribution to public health or private health care will mean support for sick patients and the satisfaction of knowing you are helping others to live longer and healthier lives.
You might also like...