Work as an Acupuncturist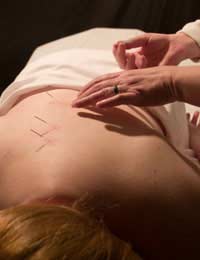 With so many health careers to choose from, many people are looking to traditional, non-pharmaceutical styles of health work such as acupuncture. Acupuncturists are a type of alternative health practitioner. They use ancient methods of healing that originated in China thousands of years ago. The westernised approach to acupuncture brings together medical healing from China, Japan and other countries. This type of work is very hands-on and suits people who want to use non-drug based methods of healing that do not pose the same side effects and cautions of many other treatments.
Using Needles to Heal
Acupuncture uses extremely fine, metal needles to penetrate the skin at various pressure points. By stimulating specific parts of a person's anatomy, there are benefits to the patient such as pain relief and improved mobility and flexibility. It is thought that the stimulation releases nature's feel good chemicals – endorphins – that serve to block pain and discomfort throughout the body. Scientific evidence on acupuncture is still quite controversial and is not conclusive regarding the effectiveness of acupuncture. One thing that is known, however, is that acupuncture rarely causes harm to the patient, particularly if performed by a trained and qualified acupuncture professional. An important part of acupuncture is 'chi,' which is the energy that travels through the acupuncture meridians. The concept of chi is one that is described in detail during acupuncture training.
When working as an acupuncturist, you can expect to work with a wide range of people from many different backgrounds. Common ailments treated by acupuncture are headaches and migraines as well as arthritis and back pain. Other problems that you may treat in your patients include sports injuries, particularly those in the feet and legs. You will typically begin with a consultation to obtain the patient's history and diagnosis. You would then discuss their current treatment regime and what they hope to gain from your treatment. As an acupuncturist, your treatment would involve the insertion of needles into a few or many of the hundreds of acupressure points located across the body. Treatment is rarely painful or even uncomfortable – in fact, patients often report feeling very relaxed and sleepy during treatment. While some patients may only need to see you for one treatment, others might have ongoing acupuncture sessions.
Acupuncture as the Best Career for you
Those who fare best as acupuncturists are usually very skilled and careful with their hands. Given that you will be inserting and manipulating needles, you need to work with the utmost care and attention to detail. If a needle is incorrectly inserted, it could cause pain or infection. An acupuncturist must always sterilise needles or use disposable ones. In fact, disposable needles are the industry standard now and virtually all of the reputable acupuncturists use disposable needles. You should also be a good listener, which will ensure you obtain all of the necessary information from each patient before you perform the acupuncture. Another important trait is patience because it takes time to develop your skills as an acupuncturist.
Training to Become an Acupuncturist
Generally, most acupuncturists will train in programs ranging from several months to many years. They must obtain a good grounding in sciences such as nutrition, anatomy and biomedicine. After, they will learn the theoretical and practical aspects of Chinese acupuncture along with bodywork training and the important aspects of clinical practice. Salaries vary enormously but the average acupuncturist will make approximately £20,000 to £25,000 per year.
Future Outlook for Acupuncturists
As a field, acupuncture is growing and has become much more popular in recent years. In this sense, it is one of the fastest growing health care professions. If you ensure that your training is completed at a reputable college or university, you will likely find that you have no problems finding stable, busy work as an acupuncturist. For those who have a passion for healing without drug-based treatments and want a hands-on career helping to treat the pain and challenges of many different health conditions, a career in acupuncture may be the best choice.
You might also like...
The Full Body Health Scan is the ultimate tool in preventative medicine. To find out what is really going on inside your body. Most serious condtitions such as heart disease,hypertension, diabetes and obesity start off as borderline serious illness and when detected early can be reversed through timely treatment before disease becomes too advanced. If you would like to visit Springwood or Beenleigh, we will give you a free 15 minute appointment to explain our testing methods and talk to you about your concerns. it is most important to listen and really appreciate what is going on in my patient's lives. To treat the underlying cause of illness, not just treat the symptoms.
lancarol0098
- 19-Oct-13 @ 3:49 PM