Train to Be a Reflexologist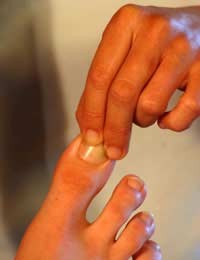 Reflexology is a health career that involves applying pressure to the feet or the hands. This pressure is applied using special techniques that involve the practitioner's thumbs, fingers and hands.
Reflexology is based on the belief that these areas have specific zones that correspond with other parts of the body. It is thought that through the appropriate application of pressure, healing in the corresponding areas of the body is promoted.
Personal Attributes for Success
Since reflexologists work very closely with clients, you should be a very caring professional who enjoys helping others. Even though you are not a counsellor, you are working in a position where clients may become more relaxed and need to talk during a treatment. To succeed in a career as a reflexologist, you should be comfortable listening to the problems of your client and offer kindness and support during a session. You may offer guidance and suggestions during this time.
Indeed, some people who train to be a reflexologist may also train in counselling or listening skills to enhance their career prospects. You should also work well with a range of different people, as you may need to communicate with other health professionals to ensure you can best support your client.
Excellent record-keeping skills are essential for a successful career as a reflexologist. In this role, you would need to take comprehensive records of each client. Confidentiality is similarly important as it is for any health profession.
Promoting a Reflexology Practice
Marketing may seem like an insignificant detail but it can be a critical one, particularly for those who are self-employed reflexologists who manage their own business. Making sure that clients can find out about your services will be key to ensuring you have a stable, lucrative reflexology practice. Many reflexology businesses find that promoting their practice is especially important in the beginning when they first open, but as they soon grow a referral base, it is no longer as resource intensive to maintain a client base.
Studying to Become a Reflexologist
Training to work as a reflexologist varies immensely but typically involves a diploma course that can range from several months to years. Various modules will take you through courses that become more advanced and teach you more specialised reflexology techniques.
Wages for a Reflexologist
Wages very tremendously for a reflexologist, particularly as many work independently and set their own standards. The best approach is to find out what a typical reflexologist in your area is making and then look at how this corresponds to his or her training and skills.
Choosing a Place of Work
Reflexologists can work in a number of different places. Some may begin by working from a room in their home as a self-employed reflexologist. Others can even choose to work in a mobile service where they travel to a client's home.
Another option is to rent a treatment room or to work with other alternative health practitioners. This last choice can be very rewarding because it allows you to work with others who can drive business to your practice, and vice versa.
You can still choose to work in permanent employment for a health clinic, private insurance company or even at a hospital. While uncommon, more government-funded hospitals are opening up to alternative treatments such as reflexology. Places such as health clubs and spas also employ reflexologists.
Starting Your Reflexology Career Today
For those who are good listeners and enjoy hands-on work, a reflexology career may be the ideal choice. The training costs and time can be particularly well balanced against the earning potential but do depend somewhat on your ability to promote your business or establish a role within another health and wellness business.
You might also like...