Chiropractic Careers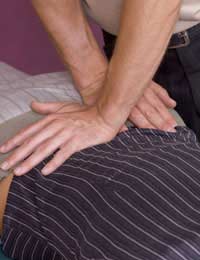 Given how important your back is for everyday movement and living, it is no surprise that injuries and problems with the back require specialist care. In the case of spinal care, a chiropractor has a special career that involves caring for the back while also preventing and treating a huge array of related conditions.
Chiropractors have an important role where they relieve pain in the back or joints through spinal manipulation. The role is an extremely hands-on one where a chiropractor makes adjustments to the joints and bones, with the aim of improving the client's functioning and nervous system.
Why Work as a Chiropractor?
Working as a chiropractor can be an immensely rewarding health care career choice for your future. In this role, you would have the opportunity to work with a variety of clients, where you would work to help reduce pain and prevent the recurrence of injuries – while focusing on the spine. People have back problems for many reasons, ranging from injury to stress, lifestyle factors such as a lack of exercise, or as a consequence of another health condition.
Headaches are another area that commonly triggers a visit to the chiropractor. Tension headaches from muscles in the neck can be successfully addressed by a chiropractor. You will also likely work with people who suffer from injuries occurring as a result of a workplace accident, sports or posture problems. Chiropractic care usually has a non-drug focus, which means it is a good career choice for people who want a more alternative style of healing.
Daily Work as a Chiropractor
As a chiropractor, your initial session with a client will probably involve diagnostic assessments such as a thorough discussion of their history along with any necessary x-rays or blood tests. You would also explore any previous diagnoses made by their general physician or other specialists they may also be seeing for their condition. Then, you would create a unique treatment program to successfully help your patient with the source of the pain. On top of that, you would also provide information and advice pertaining to lifestyle changes such as diet and exercise, all of which can facilitate a more effective recovery and treatment. In addition, chiropractors provide advice on orthotics or may refer a patient to another specialist to ensure the patient has appropriately designed orthotics to help their posture and spine.
Your Training for a Career as a Chiropractor
Chiropractors are registered with the General Chiropractic Council (GCC) and require this registration to practice chiropractic in the United Kingdom (UK). To become registered, you must have studied on a recognised degree program and you must have also performed approved practical work. Your training will include subjects such as anatomy, biochemistry, chiropractic techniques and physiotherapy, among many others. As with most health care careers, your training will never truly end. Given that science and research into health are advancing so rapidly, you will need to participate in continuing education to ensure that your knowledge and skills remain modern and sophisticated.
Salaries for a chiropractor vary, but training salaries usually begin at approximately £20,000 a year and quickly rise to a range of £30,000 to £50,000 or more per year. Once you have gained a few years of experience and become established, you can expect a stable, high salary and you will usually enjoy flexible, weekday working hours during normal business hours.
Future of Chiropractic Care
Chiropractic care remains a tightly regulated, important specialty that has a primarily non-pharmaceutical approach. It is well suited to someone who has good communication skills, a keen interest in spinal health and is comfortable in a very hands-on role that helps to reduce patient pain. If you are considering a career in chiropractic care, you should speak to an academic advisor at school or even talk to someone who works in the field, which can give you helpful and useful information about the benefits of a career as a chiropractor.
You might also like...