Careers in Art or Music Therapy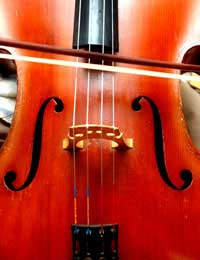 While the words 'art' and 'music' leave many of us thinking about our favourite songs and pictures on our walls, they also combine with the psychology and counselling fields to provide unique and very special careers.
Art therapists are educated and skilled in the psychology of non-verbal forms of communicating such as those through images. They use image making as a type of symbolism to encourage healthy development in children and to facilitate better family structure and communication.
Music therapists use sounds and different kinds of music to encourage mental and psychological health as well as to aid people in reducing their stress and increasing their confidence and communication. While you might think that an art or music therapist is teaching music or art, this is far from the case. Instead, as a music or art therapist you would provide a warm environment where clients can use drawings or other forms of art – or perhaps instruments and singing – to communicate their feelings.
Understanding a Career in Art Therapy
While you might have a bit of an idea now about what an art therapist does in a generalised sense, you may still be wondering just where they work and what type of clients will use art therapy for their well being.
Art therapy is still within the counselling and helping realms, where the art therapist focuses on the use of creativity rather than the more traditional use of words and conversation to share feelings and provide support to a client. Many art therapists work for the National Health Service (NHS) while some will work in the private sector. Art therapists can be particularly helpful with younger children, who may struggle with the maturity of their speech at this stage and can thus benefit from communicating in an easier, more natural way. Teenagers and adults as well as the elderly can also benefit from art therapy; you might choose to specialise with one of these age groups.
Places where art therapists are employed include schools, drug and alcohol centres, social services, palliative care and the prison service. To train as an art therapist, you would typically complete a graduate level diploma or a Masters, which must be professionally recognised. You would also register with the Health Professions Council (HPC) in order to qualify for practice in the United Kingdom (UK).
Most people who complete their graduate programs in art therapy will have already finished an undergraduate degree in art and design – some may even be working as art teachers. If your undergraduate studies were in psychology or social work, you may also be qualified to enter an art therapy graduate program. Those new to the field will usually make a salary of £23,000 to £31,000 per year although this can reach £37,000 once you have worked for a few years. More experienced senior art therapists will make £43,000 or more each year.
Working as a Music Therapist
Music therapists gently encourage clients to use music as a means to express themselves to effectively find new ways of communicating with people. A music therapist will also help people to gain a better understanding of their own personality and relationships with those around them. Through the use of music, a client can become more confident, strengthen their relationships and obtain a better, deeper sense of their own feelings. In this way, your work as a music therapist can be highly rewarding in that it helps people to ultimately have an improved sense of self and more successful communication with others.
In a typical day, your client would use instruments or other forms of music such as singing to communicate freely and creatively – together you would facilitate confident and safe communication in a very uninhibited and creative format. Your clients might be children or they could be adults with psychological and emotional challenges. Those with speech problems or learning disabilities are also helped through music therapy.
As with an arts therapist, you would need to complete an accredited graduate program in music therapy and you must also register with the HPC. Most people first complete an undergraduate degree in music or they may already be working as music teachers. Coursework would focus on childhood development, psychology and the theoretical aspects of music therapy. Music therapists work in a range of community locations such as hospitals and schools. Some may also work in private practices. Your starting salary would be approximately £23,000 per year but can rise to £42,000 a year once you have at least a few years of experience.
Choosing the Best Career for you
If you have a deep caring for other people and want to work in a role that sits on the brink of therapy and the arts, then a career in music or art therapy would be well suited to your personality and character. You will have the opportunity to use non-verbal forms of communication to encourage clients to get in touch with their feelings and make positive changes in their lives.
You might also like...
Hi all..I have a question. What must I study if I want to be a social worker specialising in music therapy? Must I do BSW first and then do a music degree or can I combine the two at the same time ? Your help will be highly appreciated.
Bella-Fortuna
- 27-Sep-14 @ 9:05 AM
Hi I have just set up a petition on an official Government site to gain enough signatures in support of Art Psychotherapy, in the hope that it can be made available across all NHS hospitals for out patients as well as acute services. If you support my campaign please click on the link below to sign my petition. When giving your details business addresses will not be accepted. Thank you. http://epetitions.direct.gov.uk/petitions/66077 Kind Regards Colette Whelan
Colette
- 11-Jun-14 @ 11:59 AM