Research Work in a Biosafety Lab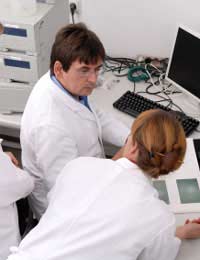 The biosafety laboratory needs many professionals to ensure it runs smoothly and successfully. If you want to play a key role in and out of the laboratory operations, you might want to consider work as a biosafety officer. Here, you will get to enjoy the challenge of significant responsibility for protecting the health of humans as well as the environment
A Typical Day as a Biosafety Officer
People who work as a biosafety officer will have quite varied days, as this role is usually one that can be both broad or specific, but falls under the biosafety umbrella term. You may be working internationally to handle import and export of chemicals and goods. If so, you will need an excellent knowledge of the policies around this kind of work.
In a typical day, you might be liaising with others in the field or working directly with clients to communicate safety and hazard information. You will also possibly play a role in drafting procedures to ensure good safety measures to prevent any chemical hazards and issues.
Biosafety officers will keep clear, concise records of all laboratory inspections as well, which helps to keep the laboratory running smoothly. Your solid understanding of science will help to identify hazards, deal with any accidents and create new approaches to ensure safety.
Important Skills for a Career as a Biosafety Officer
People who work as biosafety officers need a wide range of skills that include anything from research skills in and out of the laboratory as well as good hand-eye coordination to perform laboratory tasks and use equipment.
You will need to have a strict attention to detail as you will be implementing important safety procedures and policies in the lab. You should also be comfortable and familiar with biomedical equipment and be capable of training others to use the equipment.
Good teamwork skills and a positive attitude along with strong technology and data skills will help to ensure you are successful in the health career role. As this kind of work can involve independent and team tasks, you need to be able to quickly switch from solo work to collaborative work. You can also expect to be thoroughly checked in terms of background screening as well as regular drug testing to ensure you are sound of mind while at work.
Another thing to keep in mind is that the field is one that is constantly changing and growing. As such, expect to take continuing education courses on a regular basis if you want to keep up-to-date in your knowledge and skills.
What You Will Need
If you plan to work in a biosafety lab, you will definitely need a bachelor's degree in an area such as microbiology, biology or chemistry. Any related life sciences areas will also likely be considered as well. If you have already completed education in the sciences, it's worth talking to a career advisor to find out if this is sufficient.
Postgraduate training can be helpful but isn't necessary; experience is often key, which means that the hardest part can be getting your first position in the field. After that, you can also move up to a position with more responsibility or one on the management side of things.
Choose Your Challenge Level
With work in a biosafety lab, you can choose to work in a very challenging level 4 one where you will come into contact with dangerous viruses and microbes. Or, you can perform research work in a lower level lab that lets you focus on less threatening viruses. It's all a matter of choice – some people like the thrill of working with highly dangerous pathogens because their work tends to have a significant impact on human health or the environment.
A Health Career in the Biosafety Arena
Choosing to work in biosafety is something that requires careful consideration, as you need to be comfortable with a laboratory environment. For those who like to work on a molecular level, this kind of career can have a real investigative feel and will be very rewarding.
You might also like...