Become a Mobile Lab Technician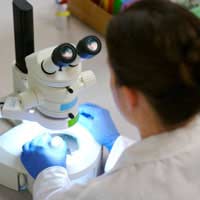 Laboratory technicians are generally in high demand but the reality today is that there is a strong need for the flexibility of a mobile laboratory. However, it's still a niche area that many don't even know about – let alone anyone considering it for a career choice.
What is a Mobile Laboratory?
A mobile lab is a laboratory that is fully contained in a large vehicle or is transported by such a vehicle. Typically, this would be a bus that has been appropriately converted to a lab or it could be an RV. Sometimes, even a trailer or tractor may be used for a mobile lab.
These vehicles are multi-purpose ones that are useful in many ways. They can offer all kinds of chemical analysis such as air, water, or soil sampling and investigation. For this reason, they can work extremely well as part of a hazardous waste management strategy.
A mobile lab can also work well for science education, as it can go on-site to provide the necessary tools for educating students about science. It could even travel to a museum or other community oriented place to provide resources that are lacking.
Working as a Mobile Lab Technician
A mobile lab technician by trade is generally the same as any laboratory technician. They are usually trained in the sciences, more often than not with a degree in chemistry or a suitable life sciences background. Some have postgraduate training although this usually isn't necessary for success in the field.
The main difference is that there is a greater variability in the working environment. While you may always be working within the mobile vehicle, you will be travelling on-site to conduct your work. Your advantage is that you could offer important data much more rapidly as there is no delay from shipping.
Skills for Success as a Mobile Lab Technician
As with any laboratory technician, you need a critical eye for detail. In addition, you should have excellent problem-solving skills and be able to quickly troubleshoot any issues.
You would maintain the mobile laboratory and must work well with other people, whether that's a client or another technician. Sometimes, you may have to travel to remote locations to conduct your work so you should be comfortable in this aspect.
Computer skills are a must, particularly as you will be transmitting data quickly once you have completed your analysis. If you can troubleshoot software and hardware issues, you will be ahead of the game. For this reason, many people might want to consider advanced computer certificates or diplomas when it comes to working as a mobile lab technician.
Entrepreneurial Choices
Another wonderful benefit to this health career is that it's a good way for lab technicians to venture out alone in terms of career advancement. If they can secure the appropriate funding to establish a mobile laboratory, which tends to be approximately £100,000 and upwards, and also market their services effectively, profits can be very high.
Other opportunities are in the private sector, where more and more companies are catching onto the benefits of mobile lab technologies. Wages are usually in-line with any scientific lab technician, but this all depends on the sector, as you could be working on environmental analysis or biomedical science.
Future Prospects for Mobile Lab Technicians
While mobile labs are still largely uncommon, the need for them is driving growth and the sector for mobile lab technicians will likely grow significantly in the next decade. This is why now might be the best time to consider a career as a mobile lab technician.
You might also like...