Become a Yoga Trainer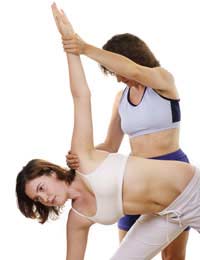 Yoga has become a 'hot topic' in recent years and continues to grow in popularity. With this immense growth comes a demand for qualified yoga trainers who can help to train people and facilitate the enormous benefits yoga has to offer.
Benefits of Working as a Yoga Trainer
With the major popularity of yoga today, people around the world are taking yoga classes to help improve their health and enjoy the mental and emotional benefits of this physical and spiritual exercise.
As a yoga practitioner, you can help participants to relieve stress and improve their emotional stability and control. You also get to show them postures to help their balance, flexibility, strength and immune system. As part of an overall healthy lifestyle, your participants can work towards achieving and maintaining a healthy body weight as well. For all of these reasons, working as a yoga trainer can be immensely rewarding as your work supports many of these benefits in participants.
Choices for Yoga
Yoga comprises a number of different forms of exercise and environments to achieve health. While some forms involve much slower, controlled postures, others are significantly more intense and can really get a participant's heart rate up for cardiovascular benefits. You can teach classes ranging from beginner to advanced and incorporating yoga styles such as Bikram, Hatha or Ashtanga.
Places of Employment in the Field of Yoga
Yoga classes exist within many different health businesses or you can teach independently from a sufficiently sized room you rent yourself. Many spas and health clubs offer yoga classes and they can go hand-in-hand with several other healthcare approaches such as massage therapy or physical therapy.
Even corporate workplaces are now recognising the benefits of yoga and offering classes to their employees. Other options are to run and manage yoga retreats that can last anywhere from a weekend to a week or more.
Skills for a Successful Career as a Yoga Trainer
Yoga trainers must deal with people, of course, to share their techniques. This requires that you be very comfortable and patient guiding others in their learning process.
You must also have a deep understanding of yoga philosophies and an understanding of physical limitations and barriers for others to learn yoga. Many people who become highly successful yoga trainers also started out with a highly successful yoga mentor.
There are lots of different places that offer professional certification and training courses for people who want to learn how to teach yoga. With literally hundreds of yoga exercises, you will need to combine appropriate ones to form a class schedule that works well for participants at different user levels and needs.
Starting a Career as a Yoga Trainer
Some people who become yoga trainers have already been taking classes to experience the benefits of yoga. Employment prospects are very high and will continue to grow most likely as the benefits of yoga spread to more people.
Earning potential varies and will be higher at the niche end of sophisticated spas versus some of the yoga studios that operate in a highly competitive environment. For those who become a yoga trainer, however, the role goes beyond just money to provide them with many of the same spiritual and physical benefits they give to their clients.
You might also like...