Employment in Nutrition and Dietetics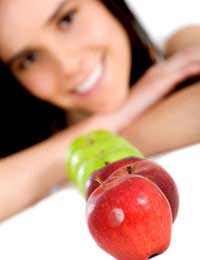 If you love healthy eating and have a passion for supporting others on their quest to prevent and treat disease and health conditions through nutritious eating and positive lifestyle choices, then you might want to contemplate employment in a nutrition and dietetics career.
The Role of a Nutritionist or Dietitian
Dietitians and nutritionists play an important role in planning food and nutritional programs. They also work in supervisory areas such as the supervision of food preparation and serving. Another area – perhaps the most important – that is within a dietitian's scope is the prevention and treatment of disease through the promotion of nutritious and balanced eating habits. Dietitians will suggest changes to a person's diet but they do so in a way that is manageable and realistic for the individual.
Hospitals are a major place of work for dietitians. Here, dietitians will manage the food service aspects of a hospital, where they encourage healthy eating through appropriate education and research. Dietitians also work in schools, where they influence the school cafeteria choices and food preparation. Overall, the key area where dietitians can work include consulting, clinical treatment, community work, and management roles. Most dietitians will work in hospitals, physician's offices, clinics and nursing homes. The outlook for the profession is good and most dietitians can expect to earn approximately £20,225 to £38,352.
Generally, a clinical dietitian will work for the National Health Service (NHS) in a hospital or nursing home setting where they provide nutritional assessment for each patient and then create a program to promote health through nutritious eating. Dietitians will also work with physicians and other health care professionals to ensure each patient's needs are met.
In more community oriented dietetics, a dietitian will work directly with individual patients and also groups to promote healthy eating, which serves to maintain and improve patient health while also preventing disease. Community dietitians will assess the needs of each patient and will then create and design a nutritional plan. Sometimes, a dietitian will work with the entire family to provide advice on meal planning that is within the family's budget and also satisfies unique health conditions and nutritional goals.
Dietitians in management roles may supervise a large number of patients in NHS or private health care facilities or even in schools and prisons. Here, they will operate within a specific budget to hire and train other dietitians as well as supervise food service workers and ensure food and facility safety. Dietitians in these managerial roles will also complete paperwork and financial records relating to their duties. Most consultant dietitians work on a contractual basis in private practice where they provide nutritional assessment for patients and then give advice on patient concerns such as weight loss or the management of heart disease.
Nutritionist or Dietitian?
In Britain, the title of dietitian is a protected one. Dietitians must complete a recognised undergraduate program in nutrition and dietetics as well as an approved practicum and a qualifying examination. Then, registration completes the process and ensures that dietitians have been thoroughly assessed to meet the qualifications that are necessary for successful and ethical patient care. A nutritionist, however, may have completed the same undergraduate course in nutrition and dietetics but perhaps did not complete the other requirements. Or alternately, a student may complete an undergraduate degree in nutrition and then not wish to work in the field.
Still others may complete an undergraduate degree in another science area and then may go on to become registered dietitians through an appropriate two year combined graduate study and practicum course. There are also those who continue on from a life sciences degree to complete an MSc or PhD in nutrition. These individuals, however, will not be dietitians but instead, they may use the title of nutritionist. Generally, it is recommended that patients go to a registered dietitian for health support and advice but that is not to say those who have studied nutrition can't provide effective services.
If someone is looking to see a nutritionist rather than a dietitian, it is best that they check the nutritionist's qualifications. There are those who have no formal education at all and practice as nutritionists, particularly those who have a strong slant to alternative or natural health. In this sense, you will have more job stability in your career if you go the dietetics route rather than the nutrition route. Still, there are many successful practicing nutritionists and it's a decision that you will have to make after careful consideration. There are also many jobs in the research sector for people who have a doctorate in nutrition. Overall, if you are looking for direct patient work specifically in the area of providing therapeutic preventative and treatment strategies for disease through diet, then dietetics would probably be the best route.
Challenges of a Career in Nutrition and Dietetics
Do not, however, think that coursework in nutrition and dietetics is all food and nutrition management. This kind of course is heavily science and laboratory based. Therefore, you can expect to take courses in biochemistry, metabolism, micronutrients, biology, anatomy, chemistry and many others. Your first years will have a heavier scientific and laboratory focus and your final years will focus more on therapeutic and nutritional management of disease. The reason for this coursework organisation is that you need a solid grounding in the scientific principles that underpin the nutritional advice that you will provide to patients. You also need to keep in mind the challenges for this profession. Encouraging people to change eating habits can be frustrating for both the dietitian and the patient – not to mention extremely difficult. Some patients are resistant to changes, even when their health is adversely affected. A dietitian must be firm but compassionate and must also be an excellent communicator.
Starting a Career in Nutrition and Dietetics
If you are excited to begin employment as a nutritionist or dietitian, then start now by looking at the options in terms of a university education. In Britain, there are fortunately many different programs to choose from and you have a wide range of study options to start training and learning for your career in nutrition and dietetics.
You might also like...