Work as an Athletic/Fitness Trainer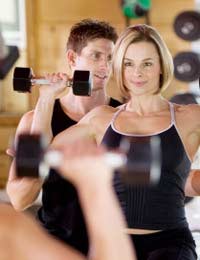 If you have a love for sports, health and fitness – so much, in fact, that you are the friend who tries to get everyone moving and active on a regular basis, then you should think about a career as an athletic trainer or a fitness trainer. You can choose from a variety of different work environments and you can use your power of motivation for encouraging others to make changes in their health and fitness routines.
Becoming a Fitness Trainer
Fitness trainers sometimes say that they never work a day in their lives. The reason for this positive approach to their job is two-fold. For one, a trainer gets to enjoy the health benefits of exercise on a daily basis, which improves their own health while also releasing nature's 'feel good' chemicals – endorphins. Secondly, they gain the immense satisfaction of seeing their clients progress to a better state of health, whether that involves weight loss, healing a sports injury, improved bone mass from strength training or a reduced cholesterol level.
An important feature of a fitness or personal trainer is that you are very motivated and in turn, you are successful at encouraging other people to become motivated about making changes to their health and lifestyles. As a fitness trainer, you have many places to choose from when deciding on the best work environment. You can work in gyms, health clubs or even spas and cruise ships. Some personal trainers will set up their own practice and gym, where they work either one-on-one with clients or in groups. As a personal fitness trainer, you would assess your client's fitness level and then design a program that is realistic and manageable, thereby allowing your client to safely and effectively reach their unique fitness and health goals.
As a personal trainer, you would need to obtain certification in the field. This can include weight training or aerobics instruction. A typical training program is two years but some people will complete undergraduate degrees in exercise science as well, which can provide an advantage when applying for a position. The average fitness trainer, however, will usually complete a two-year college program. The demand for qualified fitness trainers is huge, particularly given the increased interest people have in their health and fitness.
In a typical day, you would help your clients set short and long-term fitness and health goals. You would also provide education and facilitate motivation in your clients. Many people have no idea where to start when it comes to improving their fitness and health; your job is an important one because it sets people on the right path. You will also focus on nutrition alongside fitness. Here, you can offer education and support for healthy eating and even lifestyle changes such as quitting smoking. Your work will help clients to achieve better cardiovascular fitness, strength and flexibility. You will also have tools such as body fat monitors and other methods to help assess the progress of your clients. For most fitness trainers, however, the best measure of progress that they can see is the big smile on a client's face as goals are achieved.
A Career as a Sports Trainer
Sports trainers can work in a range of different places, from schools and universities to professional league national teams. If you have a talent and love for a particular sport, you should consider a career in sports training. At the school levels, you will motivate players and should have excellent organisational skills as well as a healthy competitive spirit. At the national level, the positions are very difficult to obtain although much higher paying than school level positions. Most sports trainers at the greater levels will also be certified personal trainers. They will know how to maximise strength in muscles that are used in the game, which helps to increase the playing ability of team members and ultimately, increases the chances of their team winning. You will also help athletes to overcome sports injuries by directing a personal training program that prevents further injury and facilitates healing.
Whether your dream job involves sports or just general fitness, you should take some time to consider a career as an athletic trainer or a personal, fitness trainer. Your love for movement and activity can motivate others to embrace health living principles, which can lead to a longer, more active life.
You might also like...