Committing Time to Health Work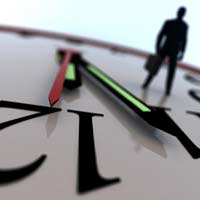 As with virtually any career, health work each day comprises a great deal of time. For the average person, most of their time awake entails working a full-time job and commute times can mean even more time dedicated to working.
The vast majority of health care workers do work on a full-time basis but there are still numerous part-time jobs – many with excellent salaries – that can allow for a more balanced work schedule.
The Department of Health serves to ensure that health work is performed under healthy working conditions and that working hours are reasonable for a person's time and well-being. Still, you will have your own personal circumstances and needs that may direct how comfortable you are with the working hours that take up your time.
Some health professions such as physicians eventually allow for part-time clinic work or shared practices that can support a light schedule. Typically, the public health careers that provide a good salary on part-time working hours will, however, require a lengthier education program and a larger skill-set.
Your Body Clock
We all have our own internal body clocks that regulate our sleep and our time spent awake. Sometimes, it's simply an inevitable reality that a job will occasionally require shifts during a time when we would much rather be sleeping. For most people, these occasional shifts are an acceptable part of their working life and don't generally pose any long-term issues and problems. In fact, for night owls and nocturnal people, late shifts can be a good complement to their natural sleep/wake cycles. Some even prefer to work all late shifts because they find those hours to be quieter in a hospital, for example, and ultimately less stressful.
Family and Friends: Making Personal Time
Some jobs that offer – or even expect – overtime hours can be a benefit for those who enjoy working the extra hours to increase their wages. Others, however, might find that any obligation to work longer shifts take away too much from personal time with friends and family. When making a commitment to health work, you have to be realistic about your own needs for leisure with family and friends relative to your health career and how it affects your personal time.
Most of us will have times when we would simply rather be having a nice dinner out with friends than working – this is quite normal. On the other hand, if you feel as though you are constantly working and find your personal life is suffering, you might need to take another look at what you want from your career and what aspects aren't working. Then, see if there is the possibility to make changes to your working hours and ultimately, your time commitment at work.
Dating and Relationships
Some public health careers such as nursing involve a large amount of irregular shift work, which will include overnights and on-call shifts. For someone who is single, there can be less frustration with finding time to commit when it comes to dating and relationships. With some health careers offering many overtime opportunities due to staff shortages, a single person might find that having no commitments outside of work allows them to easily work many hours and save up their money for future partnerships and investments.
Emotional Resilience and Stress
Ask almost anyone who works in the health care field what they love most about their job and you will probably hear something along the lines of: "I enjoy helping people." Yet, it is this trait that can also bring with it challenges and difficulties each day at work. Those who work directly with sick patients in particular can suffer from burnout and the emotional stress of seeing people in pain. While knowing you can make a positive difference in someone's life brings enormous rewards, some health care workers may emotionally take their work home with them, which can make them feel as though they are always spending time at work. Others may find that running around and being on their feet all day is physically taxing.
Sometimes, ensuring you are taking care of yourself at a very basic physical level can make a difference. This usually means eating a healthy, well-balanced diet that allows you to function with energy and clarity during your work shift. Proper, comfortable and supportive work footwear for those who are on their feet for most of their shift is also important.
Not being able to relax outside of working hours because the perils of the day are still plaguing you can really take time away from enjoying family life and friends. Although one personal quality that is typically viewed favourably is dedication and time commitment to health work, this commitment shouldn't be interfering with your time outside of work.
That being said, it is natural to be affected by patients but many seasoned public health care workers will cite that what keeps them emotionally stable and capable of handling patients is to avoid feeling responsible
for
a patient and instead, being responsible
to
that patient. In this way, a health care professional knows that he or she is there to fulfil job duties in the best way possible but within realistic limitations.
Your health career will likely take up much of your time, which means it will require a vital commitment of your time for working hours. In that same light, this time should not be a consistently draining commitment that has a negative impact on your emotional and mental well-being. Be sure to look at your own personal ability to commit time to working hours. You will then be able to reap the benefits of health care work while functioning at your best outside of working hours.
You might also like...