Being Overworked in the Health Sector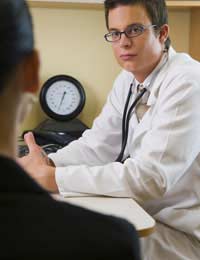 The signs of being overworked are often clear but the numbers of people who both recognise and treat them tend to be few and far between. In the health care sector, burnout can happen more frequently in some of the careers where extensive overtime and poor coping skills are present. Not only that, but also those individuals who are extremely career driven may almost feel a sense of accomplishment from their exhaustion, assuming it signifies a hard day's work. In fact, the opposite is true – being overworked can mean that the quality of your work deteriorates and ultimately, the patients who depend on you can suffer. Whether you work in hospitals or elsewhere, being overworked can happen to virtually anyone. Still, some career roles are notorious for shift work and overtime, such as doctors and nurses. Those in primary care may also find they are susceptible to being overworked.
Balancing Family, Friends and Work
One of the biggest issues with being overworked is that it takes time away from social activities and personal relaxation. For instance, a health care nurse who works overtime may find that she comes home and is too exhausted from the longer shifts to contribute to her relationship or friendships. In turn, as personal communication deteriorates, this only serves to contribute to the feeling of stress and being overworked. Some may then take on additional shifts to escape, which continues a difficult cycle of being overworked.
Learning to Recognise Burnout
Health care work burnout is the culmination of being overworked over time. It involves a very significant feeling of exhaustion – emotional and physical, that results when stress continues consistently and over a long period of time. This period of time and intensity, however, does vary from one person to another. Burnout may begin when you are simply overwhelmed with work and find you are unable to meet all of the demands. If this kind of stress perseveres, you can be left feeling drained, unmotivated and disinterested in work.
Health Care Career Stress and Burnout
It's important to know that stress in itself is not the same as burnout. Stress can ultimately lead to burnout but most of us experience a certain level of stress in the day at work. This kind of stress can actually be a positive thing in that it challenges us to work to the best of our ability. When stress becomes prolonged, however, it can mean that instead of prompting you to do more and work better, you are left feeling empty, unmotivated and exhausted. Since stress precedes burnout, it's important to identify it right away and take action to move beyond it.
Coping Skills if you are Overworked
While it may seem as though there is nothing you can do when you are overworked, there are still several options to help you reduce workplace stress and ultimately, help to prevent burnout, particularly if you are in primary care or a higher stress position such as doctors or nurses. First, you should learn to identify that you are being overworked. While working long hours may seem, by definition, to qualify as being overworked, this is not necessarily the case. Overtime health care work is not automatically the same as being overworked. You may have a job that requires twelve-hour shifts on occasion, but you find you feel fine and cope well with the hours. You perhaps even enjoy them!
You become overworked when the demands of your job exceed what you can comfortably and reasonably handle. It's important to note the word 'reasonably,' because sometimes when people are overworked, particularly in health sector jobs where patient care seems to prevail, a person may feel that they are inadequate if they can't meet the demands of the job. In some cases, the demands are simply not reasonable and this may suggest a case where your employer should be alerted and you should communicate your concerns. Unions often act as a good support for cases of being overworked because they play a role in regulating working hours and ensuring employee health is observed.
Enjoying a Health Career
Your work should be fulfilling and enjoyable throughout the life of your health care career. While some stress can be a positive thing that propels you to work to the best of your ability and meet challenges, too much stress can have a detrimental effect on your productivity and ultimately, your satisfaction and motivation at work. If you notice that you are experiencing signs of excess stress in your health career or have already reached the burnout stage, take action now to prevent the symptoms worsening. By looking after yourself and communicating your health care workplace needs to your supervisor or union, you can ensure you enjoy your health care career for many years to come.
You might also like...
Hi l want to register with work union, what is the procedure. Thanks Omon.
Omon
- 7-Jul-17 @ 11:26 AM
Hi,I am working as healthcare assistant and am now 31 weeks pregnant, I informed my employer at 14 weeks so that they can do risk assessment for me unfortunately they didn't bother to do it for me till today,and am still working alone which is not suitable for me and my baby. I even go for sick leave since January they refused to pay the ssp for me which I gave them the letter from my Gp twice, I want your advice please.
Lady B
- 3-May-16 @ 5:01 AM