Work as a Cognitive or Behavioural Counsellor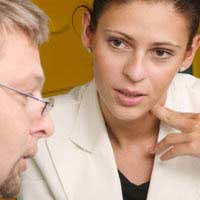 Counselling is a well known health care career that many people use each year. In fact, you may have visited a counsellor yourself at some point in time when you needed support and guidance for a condition such as depression, stress, anxiety or anger management. There are, however, many different counselling styles and if you have been thinking about a career in counselling, it is important to look at each style, which will allow you to find the one that best fits you. Cognitive and behavioural therapy are two styles that are often combined to provide therapeutic change in a client's life. The collective style is also one that is widely popular and supported through research as an effective way to help clients make positive changes in their lives. In this way, you would be choosing a career that will provide a great deal of satisfaction as you help your clients to achieve their goals.
Learning About a Career in Cognitive Behavioural Counselling
Cognitive behavioural therapy is a very active and engaging type of counselling theory. It involves communication between the counsellor and the client, whereby the client initially speaks and the counsellor listens. Together, the client and counsellor then take action and work cooperatively to achieve the client's personal and unique goals, whether those are related to family and relationship areas or perhaps career issues.
In this type of psychotherapy, your client would not be a passive player. Instead, your client would be similarly active as you would provide your client with tailored assignments to complete within sessions and also at home after sessions finish. An assignment might be reading or it could be a behavioural exercise. The ultimate focus for you as a cognitive behavioural counsellor would be to use the ethos that a person's beliefs and way of perceiving and interpreting the world around them are the key points that influence how that person feels, thinks and eventually acts. In this way, the work of a cognitive behavioural counsellor is to investigate ways to promote positive patterns of thinking, which serve to replace negative and destructive ways of thinking. In turn, the client will ideally then be able to follow these positive thoughts with healthy, positive actions.
A Typical Day Working as a Cognitive Behavioural Counsellor
During a typical day in this career role, you would meet with a client for approximately forty-five minutes to an hour and a half, where you would listen to your client share what is happening in their life. Cognitive behavioural therapy generally focuses on the current day, meaning that the 'here and now' is more important than the past. It isn't to say that a person's previous experiences have no value or merit, but simply that the aim is to face and challenge a person's current problems.
To succeed in this role, you need to be able to build a rapport with a client right away because otherwise, it can be difficult for the client to share personal aspects of their life such as the reasons for their depression or stress and anxiety. Together, you and your client would set goals and work out ways to obtain these goals. For example, if your client had anger management problems, you might advise your client to complete assignments at home, which serve to improve your client's ways of thinking and acting. Ultimately, you are helping your client to replace destructive ways of thinking with productive, positive ones that serve to facilitate positive, healthy choices and actions.
You might show your client how to improve coping skills and how to stop negative thoughts from occurring and taking over their life. You would also help your client to improve communication skills and become more relaxed. In this field more than many other health care careers, you must be able to maintain the principles of confidentiality, particularly given the sensitive and personal information that clients may choose to share during a counselling session.
Choosing an Education in Cognitive Behavioural Therapy
As with most careers in health care, your education is important to ensuring you are well trained and qualified to work successfully in your chosen career. For cognitive behavioural therapy, people come into the field from a wide range of backgrounds. In fact, counselling psychotherapy is a career that often follows another one and experience is a highly valued asset in the field. Some universities actually have an age minimum for entrance into the program. Most people will want to be accredited with the British Association for Counselling and Psychotherapy (BACP). You can look at their website for further details of how to become qualified in counselling.
Usually, you will want to take a brief certificate course to ensure you are familiar with counselling and that you are happy to continue studying in the field for a career. You can then proceed to a diploma course in counselling or even a Master's or doctorate degree. Some people first complete an undergraduate degree in the social sciences before going on to do a graduate level certificate or diploma program. Experience is strongly valued, which means that practical experience is important to gaining acceptance into a program. Many charities and other voluntary organisations will hold their own training courses, lasting from several weeks to even a year for full-service counselling agencies. You must also undergo supervised practical experience after you have completed university education and it is usually recommended that you seek out ongoing supervision during your career as a counsellor.
Salaries for Counselling
Salaries for counselling psychotherapy can start at £19,000 to £26,000 a year, rising with experience to approximately £30,000 to £40,000 a year. Those who work privately will charge £30 to £50 an hour. Some counsellors also choose to work on a sliding scale, which means that they provide an hourly pay range and you pay depending on what you can afford. The idea behind a sliding scale is that counselling should be accessible to everyone.
Choosing Cognitive Behavioural Therapy for a Career
If the idea of providing productive, supportive techniques and help to a client sounds like a career you would enjoy, then consider a career as a cognitive behavioural counsellor. Your work will facilitate a client's progress towards a healthy, more successful and happy life.
You might also like...
This all sounds really interesting and something I would like to do. I have done a BA (Hons) in English and Psychology and then a post graduate diploma in Psychology (BPS accredited). I have been doing voluntary work with Samaritans providing emotional support for about 8 months and completed the Awareness in Bereavement Care (ABC) course for Cruse Bereavement counselling; to which I am about to start work with them providing support for those suffering from bereavement. I am currently working as a healthcare assistant in an eating disorder unit within a private mental hospital for about 2 months. I would love to get involved in CBT/counselling as a career. This article has described it very well and I would love to hear some feedback/advice about what I could possibly do next and if what I am doing so far is relevant experience/work. Best regards.
Sanjay
- 29-Oct-13 @ 1:34 PM