Social Work Careers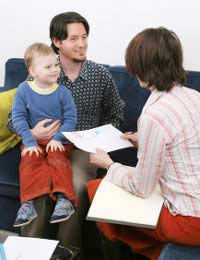 Social workers are one of the health care professions that form a strong, supportive fabric for the smooth and positive movement of each of us in society. A social worker will foster a supportive relationship with people in the community and will then serve to assist each person in healthier, more successful living. To accomplish this goal, a social worker will help each individual to find the best, most practical and realistic solution to their issues and challenges.
Succeeding as a social worker not only involves interacting regularly with clients but you would also liaise with the client's family and friends or even other agencies such as the police, schools or a probationary service. Generally, a social worker will also choose to specialise in working with children or adults.
Specialising in Social Work Services for Children and Adolescents
Children and adolescents tend to have unique needs, which means that a social worker must be able to adapt to young people and have a special sensitivity to the challenges of youth. If you choose to specialise in social work services for children and adolescents, you would be offering help and advice to children and their families. Your goal would be to keep children safe – first and foremost – but you would also work to keep families together whenever possible. Your workplace environment would vary a great deal, taking you from a children's home or a school to a youth prison centre, hospitals or to a foster family. One day you might be providing aid to a young person at risk in the home while another you could be supporting a child who is having difficulties with the law.
Specialising in Social Work Services for Adults
For people who choose a career as a social worker for adults, you will work with adults suffering from mental health conditions or learning challenges. Many will be in residential care while others might be in prisons. Your social work role would involve supervision, assessment and support, which would allow clients to successfully function in society and in the workplace. Other areas you may choose to specialise further include working on a social work team for patients who have HIV or AIDS. You might also work with the elderly where you would help them to find suitable housing that supports age-related diseases and special needs. Another specialised area is work with renal patients. Your work may be based in hospitals or a community facility but you could be completing home visits to assess your client's needs and ensure that they are able to live in a way that allows them to access necessary services and live safely.
Enjoying Different Environments
If you are someone who thrives on change and challenges, then a career in social work will likely be a satisfying and fulfilling one. Social workers are employed by numerous organisations ranging from local government authorities to charities and the private sector. Some will work in hospitals for the National Health Service (NHS) or other community types of environments. Either way, you will likely find an environment that provides the best prospects for your career as a social worker.
Personal Qualities for a Successful Career as a Social Worker
Social workers have many qualities that really demonstrate their suitability for their career. While they tend to be caring and rational people who work well under stress and with a wide range of people, they also tend to be logical and quick-thinking. As a social worker, you will have to investigate situations that can be upsetting and difficult. You may be assessing the possibility that a person has suffered from neglect in a care home, for instance. You need to be able to differentiate between fact and fiction as well as write up accurate reports and speak with other agencies where needed. In this sense, your communication skills should be strong, particularly with regards to putting a client at ease and effectively communicating with outside agencies. You should also have good listening skills, which will ensure that you hear all of the important information your client shares, thereby allowing you to provide the best advice for the situation.
Training for a Career in Social Work
Although there are several pathways to becoming a social worker, most people will complete a degree in social work along with an accredited practicum. They will then become registered to work in the United Kingdom (UK). Others may take undergraduate courses in related areas such as psychology or nursing, but then go on to complete a graduate degree in social work. Salaries and prospects for this career are good, with most entry-level social workers earning approximately £20,000 to £25,000 each year. As you gain more experience and receive a higher level of responsibility in your role, this figure will rise to £26,000 and can go up to £35,000. If you obtain a senior role, you can expect to earn an even higher wage as well.
Social workers share a passion for helping people to live their lives to the absolute fullest. They use their knowledge and skills to provide important advice and emotional support to people struggling with problems ranging from mental health conditions to abuse. If you want a stable career that provides a changing environment with a broad range of clients from many different backgrounds, then consider a career as a social worker.
You might also like...
I am thinking about changing my career, I have been a mental health nurse trained to diploma level since 2002 and I am considering a career in social work. What courses would I need to complete?
Westy
- 16-Oct-13 @ 10:28 PM
Hello, I am just wondering if you can help.i have just started a three year course called inclusive education. I am just curious, if I wanted to go into social work what would be the best thing to do? And how long would this take? I live in wales and my course is in newport university caerleon wales. Many thanks, Cherokee.
Cherokee
- 14-Oct-12 @ 11:05 PM