A Career in Dental Hygiene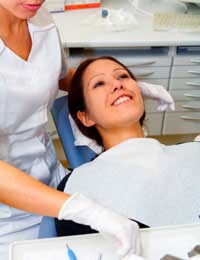 If you take oral hygiene seriously and know the importance of a healthy smile, you might want to think about working as a clinical dental hygienist. While there are many career options in the field of dentistry, not everyone wants the responsibility of work as a dentist nor do they want the extensive and costly education that comes with the career. Instead, a medical career as a dental hygienist requires far less education but still provides excellent working conditions, a strong salary, job security and the satisfaction of knowing that your work is helping to keep the mouths of children and adults healthy and attractive.
What is a Dental Hygienist?
Dental hygienists are also known as oral health practitioners. They are clinical health care professionals who work within a dental team to help prevent health problems from occurring. Although dental hygienists do play a role in the medical treatment of problems associated with the teeth and gums, their role is more of a preventative one.
A dental hygienist assists in procedures such as cleaning, scraping and polishing the teeth. They may also use topically applied products such as fluoride or sealants. In a hospital, a dental hygienist may help an orthodontist with complex treatments and surgery. As a dental hygienist, there are many places you can choose for a work environment. While the vast majority will work in general dental practices, some will be employed by hospitals and community dentistry practices.
Studying Dental Hygiene
A dental hygienist typically trains for two years in the United Kingdom. The program is a full-time one and you would study subjects such as dental health and pathology, anatomy, physiology and general patient care. A dental hygienist will also usually undertake continuing training that is mandated through the place of employment. In this way, a dental hygienist can learn new, advanced dental care techniques that can be used in preventative patient care as well as for treatment of gum and tooth disorders. Dental hygiene is a good choice for individuals who are interested in the field of dentistry but prefer a career that has a shorter training span than dentist training. Salaries for dental hygienists usually start at approximately £19,500 to £25,000 a year. However, once you have gained a reasonable amount of experience, this figure can rise to £37,000 or more per year.
Working in a Clinical Dentistry Practice
In clinical practice roles, a dental hygienist will usually support the work of a dentist or a specialty dentist. In this career role, a dental hygienist works one-on-one with patients to prevent and treat diseases and health problems related to the teeth and gums. You would be assessing and investigating any issues of the teeth and gums as well as designing customised programs of dental hygiene for patients.
One of the wonderful, highly rewarding aspects of this career is that you are not only helping patients to maintain a healthy mouth, but you are also supporting the attainment of a clean, attractive smile. A person's teeth are often linked to their self-esteem, which means that by improving someone's teeth along with the health of their mouth, you are making an important difference in their lives.
You might also like...