Emergency Medical Technicians and Paramedics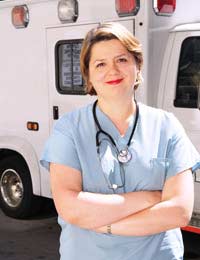 When an emergency strikes, most people will call 999 to obtain rapid help and support, whether the emergency is a medical one or an emergency requiring police or fire services. To respond to a medical emergency, there are many different community health care professionals involved such as telephone response operators as well as emergency medical technicians.
Without these important health care workers, many people would suffer permanent health problems or they would die. If you are someone who remains calm in highly stressful and challenging situations and you also have a keen desire to help people in some of their most frightening and vulnerable moments, then a career as an emergency medical technician or paramedic will probably be a very fulfilling career choice for you.
Working in a Team to Save Lives
Emergency ambulance crews are professionals who are trained in an enormous range of pre-hospital medical care. This type of care includes intense injuries such as those involving crushed bones and tissue damage or a paramedic may provide immediate support and care for someone who has suffered from a heart attack.
An ambulance is equipped with a multitude of different emergency care devices such as oxygen, splints and drugs needed to treat people who are suffering from conditions that are a medical emergency. In one sense, the ambulance is a miniature clinical working environment, where paramedics and emergency medical technicians or assistants can quickly provide the necessary life support for patients who imminently need medical care.
Important Personal Qualities for Work as an Emergency Medical Paramedic
To succeed in this community health care career, you must be someone who can work independently and within a cooperative health team. Time is of the essence in the vast majority of emergency calls, which means you need to act rapidly and make vital, life-saving decisions. You need to be able to transport patients quickly and safely to a hospital while avoiding any delays. Also important is your ability to calm and reassure patients and those around them. As such, your must lead the way with a calm, soothing and relaxing manner but you must also be firm and decisive as you direct the course of events to handle the emergency.
Since you won't usually know the exact situation you are dealing with until you actually arrive at the emergency scene, you need to be able to rapidly assess the needs of the patient and provide assistance. The injuries could be mild ones from a car accident or they may involve a serious casualty.
Working in the Non Emergency Sector of Health Care
For people who have many of the necessary basic qualities for paramedic work but feel that the high stress and unpredictable environment is a bit too overwhelming for their career preferences, then non emergency work is worthwhile to consider for a career choice. The patient transport service (PTS) aspect of the ambulatory services is involved in transporting patients such as those who are out-patients or perhaps transferring a patient to another hospital. Some people who need to have surgery or any other procedure performed at a hospital may have no feasible means of transport to the hospital, in which case you would provide the necessary, safe transport for that particular patient. You do need to be very physically fit to handle the lifting and transport demands of the job and you should be comfortable communicating with many different kinds of people.
A PTS transport person is not quite as extensively trained as a paramedic but they do still receive a detailed and thorough training in first aid and important driving skills that are unique to this kind of work. If you embark on this career, you would also receive training in patient handling and transport, which ensures safe and effective transport of patients. Even though your work would not have the same intense, critical impact as a paramedic career, your work would nonetheless be a crucial one to provide support and assistance to patients and all of the ambulance services.
Training to Become a Paramedic
To become a paramedic, you must first complete an approved undergraduate training program, complete with theoretical classroom learning and practical training. To work, you will register with the Health Professions Council (HPC) and you will still need to undergo ongoing training once you are working, which serves to ensure your skills are up-to-date and effective with regards to the newest research and live-saving techniques.
Future of Paramedic Careers
The demand for well-trained and qualified paramedics is high, particularly given the sheer number of people using the 999 emergency telephone services each year. Your quick thinking nature and ability to make life-saving decisions will make you a successful emergency medical technician or a paramedic.
You might also like...