Medical Transcription Work - How Do I Get Started?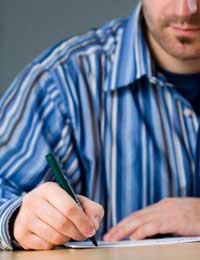 Q.
I am a doctor with experience in general practice, complementary therapies and nutrition. I want to do medical transcription work. How do I get started?
(A.J, 3 June 2009)

A.
While it's generally uncommon for a doctor to choose work in medical transcription, it is certainly feasible. In fact, your deep understanding of medicine will be enormously helpful in a career doing medical transcription.
Clearly, you will already be familiar with the job role because a person in medical transcription is a significant support person for filling in the gaps in a medical doctor's day. With all the mounds of medical data that you will generate in your role as a doctor, your potential new role in medical transcription will make it all the more effective.
Getting on Track to Medical Transcription Work
Given your understanding of science, you will not likely need to take all of the biological sciences and related coursework in medicine that is needed for medical transcription work. You will be well versed in medical terminology as well, so this aspect of the course won't be necessary most likely either.
However, you do still need an excellent command of the English language and good skills for dictation. Your coursework would still need to cover these aspects, which may not already be well developed from your work as a doctor.
Specialising in Medical Transcription
You mention that your experience covers nutrition and complementary therapies but you don't mention if you still want to stay within that specific area. In medical transcription, you can still choose to work within a particular area if you wish. The choice is yours! You may even have built up a network of contacts in your work as a doctor, so you it could be easier than you thought to specialise in medical transcription.
Taking the First Step
Since your background is so extensive in the medical field – having worked as a doctor – your case is somewhat unique. It would be recommended that you contact several universities or colleges to find out how best to proceed.
You clearly don't need to do a full course of study for the work but with regards to the precise requirements, it will be up to the individual place of study. Hopefully, you can soon get on the path to an enjoyable career in medical transcription.
You might also like...
I am seeking further information on this course.Please email same to the email address given.
Margo
- 24-Apr-19 @ 12:17 AM
Hello, After completing this course is there any sort of job placement in place to assist in employment?
Angie
- 2-Mar-16 @ 4:39 PM